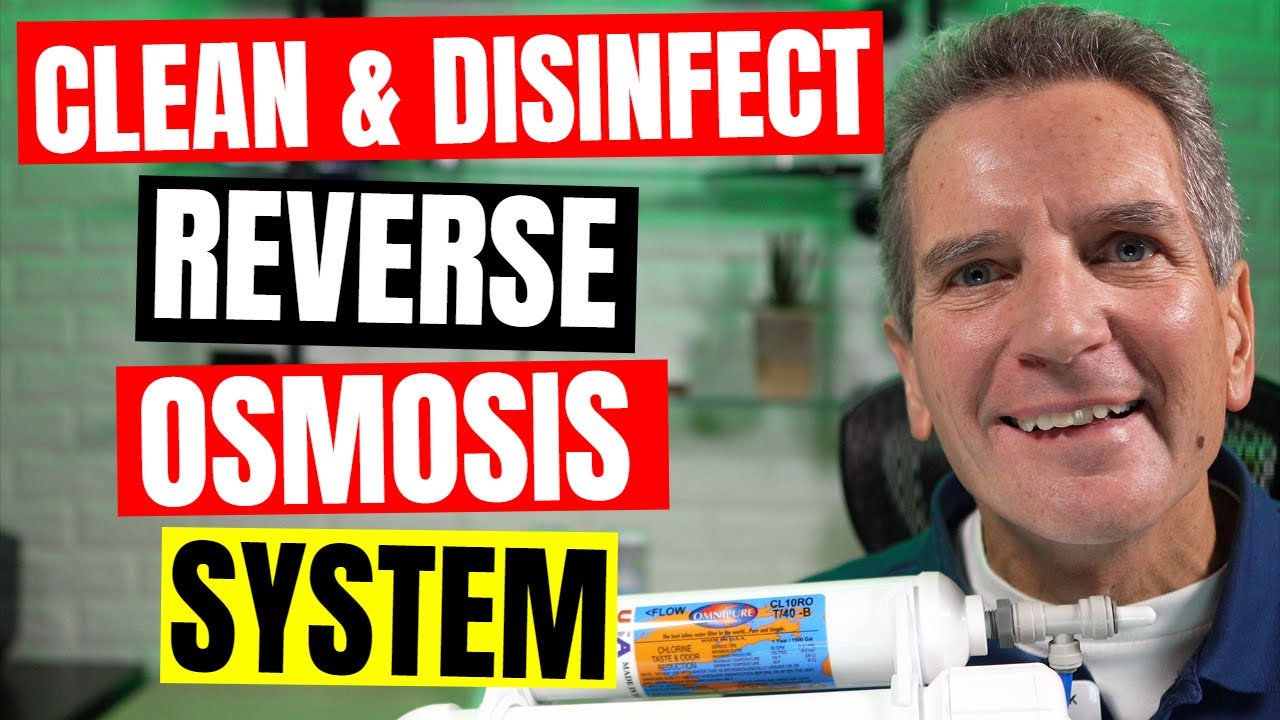 Worried about bacteria in Your families Reverse Osmosis Drinking water system? When was the last time you cleaned and disinfected it? Is there mold growing on the outside? That can't be good! I'm going to show you how to clean and disinfect your Reverse Osmosis system right now! Whether you're a DIY homeowner, plumber or water treatment professional you need to know how to properly clean and disinfect these systems. Yes, if you are on a chlorinated water source or have a UV system on well water the chances of bacteria growth is minimal but if it has been a few years since the last disinfection or installation you are definitely due! Also, you'll need to throw away all of the filters and the membrane so plan ahead and have replacements ready. Some tips to make sure you minimize the chances of introducing bacteria into your RO whenever you do a filter change: 1) Always make sure you wash your hands with soap and water or put on gloves before you begin. 2) Make sure your work area is clean and put down a clean cloth. 3) Be sure to keep all filters in their packaging until just before installation. To understand the process, you'll need to know how Reverse Osmosis drinking water systems work to clean up your drinking water. Check out this YouTube video of mine here
 • HOW does a REVERS...  
Also, you'll be disconnecting the tubing during this process so if you aren't sure how, check out this YouTube video of mine to learn how
 • How to use Quick ...  
1. Shut off the water supply to the RO system. If there is any mold on the outside of the system or the tank, now it the time to disconnect and thoroughly wash the system to remove. 2. If your RO is connected to your refrigerator or icemaker, shut off the water line going to the icemaker. 3. Open the Reverse Osmosis faucet and drain all water from the RO and storage tank. 4. Once empty, close RO faucet. 5. Open the sediment filter housing, which is the closest or first filter to the feed water line. Remove and discard the filter leaving the filter housing off. 6. Remove and discard all remaining filters and the membrane. If you have an inline post filter, leave it in place temporarily. For instructions on installing and removing filters click here.
 • How to REPLACE th...  
7. Replace all empty filters housings, except the sediment housing. There should be no filters or membrane in any housings at this point. 8. Pour one packet of Sani System Sanitizer into the sediment filter housing. Available here
https://waterestore.ca/products/pro-p...
9. Replace the sediment filter housing with the sanitizer solution inside. 10. Put a shut off valve on the drain line in the open position. 11.Turn on the water supply to fill the RO with the sanitizing solution, as water starts to flow out of the drain line, shut the drain line off. 11. Check for leaks. 12. Allow system to fill with water. Time will vary depending on water pressure. However, system should be full within 5-10 minutes without the filters or membrane installed. 13. Turn on the RO faucet until water begins to flow out, then turn off the faucet. 14. Let system disinfect for 5 minutes without any water usage. 15. Flush RO by turning on the RO faucet and letting water run through the system for 5 minutes, or until disinfectant odor is gone, open drain line valve. 16. Shut off the water supply line. Open the RO faucet to drain the RO completely. 17. Install new filters and membrane.
 • How to Change Fil...  
18. Turn on the cold water supply line and check for leaks. 19. The RO system will take a couple of hours to refill, flush new membrane and filter three times allowing storage tank to refill between flushes. 20. Reconnect the RO to the refrigerator or ice maker. Go here for your next Reverse Osmosis Drinking Water video and I'll see you there!
 • Reverse Osmosis B...  
Any questions or comments about this video? Please enter them below, I read them all and would love to answer yours. LOVE GARY THE WATER GUY AND WANT TO LEARN MORE ABOUT WATER FILTRATION FOR YOUR FAMILY? HERE ARE SOME NEXT STEPS! Sign up to keep in touch with Gary!
https://mailchi.mp/waterestore.com/su...
2) LET'S CONNECT!
https://www.facebook.com/WaterEstore/
https://twitter.com/WaterEstore
https://www.linkedin.com/company/the-...
https://www.instagram.com/Water_Estore/
https://www.instagram.com/WaterStoreM...
3) CONTACT! info@WaterEstore.com or info@WaterStoreMidland.com 4) SHOP! Midland
https://www.WaterStoreMidland.com
Canada
https://www.WaterEstore.ca
USA
https://www.WaterEstore.com
Please share this video
 • HOW to CLEAN RO S...