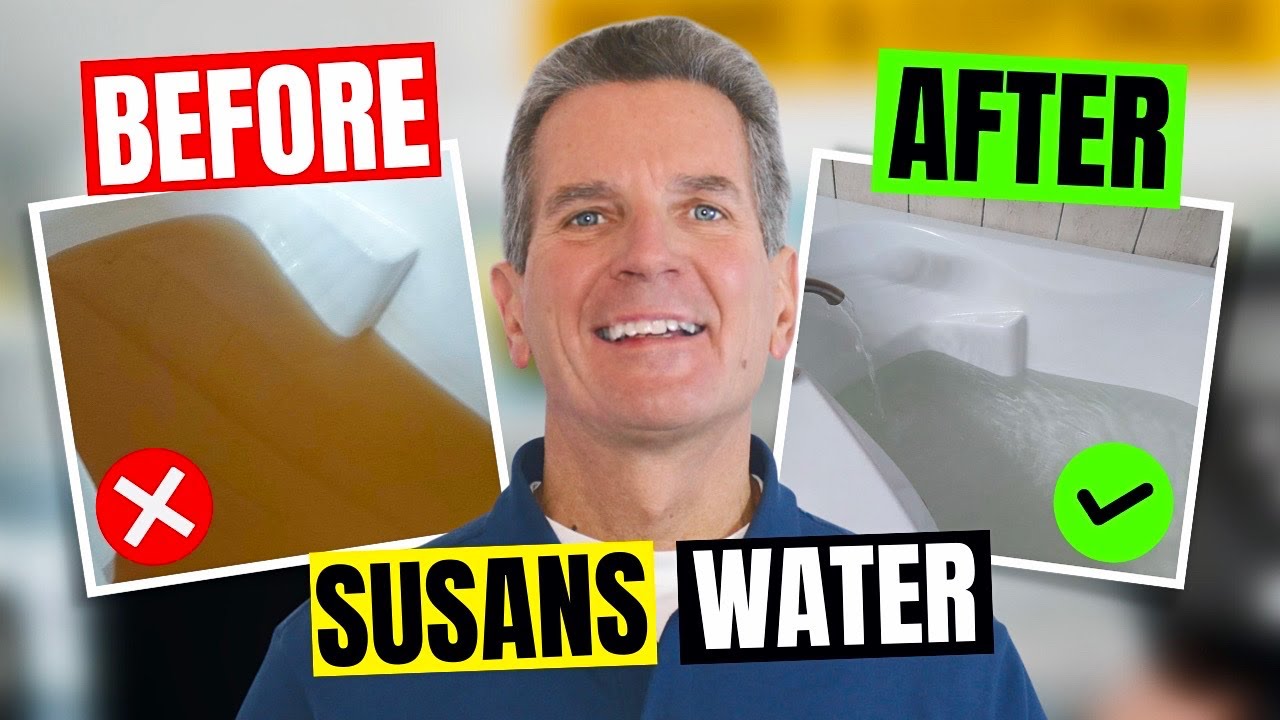 Imagine the frustration of dealing with brown, stained water that wreaks havoc on your home. That's exactly what Susan experienced until she reached out to Water eStore!
Susan had tried working with local providers in her area, but the problem persisted. Determined to find a solution, she reached out to us — even though we were over 2,300 miles away! Together, we embarked on a mission to transform her water from a murky brown mess to crystal-clear perfection.
In this blog post, I'll walk you through how we helped Susan choose and install an iron filter that effectively tackled the high iron content in her water. We'll also dive into her experience with our service and the remarkable results she witnessed.
If you're tired of dealing with dirty, disgusting water and are ready for a simple yet effective solution, keep reading. At Water eStore, we understand the importance of clean water and are committed to helping you achieve it. Let's turn your water nightmare into a thing of the past!
HERE'S SUSAN'S STORY: 
Susan's water had an iron problem, which she was aware of because she had dealt with it in previous homes. It had been getting progressively worse even though there was less water usage than ever over the past 3 years — it was just plain terrible!  She tried shocking the well twice in 2022, but there was no lasting improvement.
Susan tried a 3-canister filter system which she was changing out filters monthly on average since the water flow would be restricted due to the filters becoming saturated with iron.
She couldn't tolerate it any more as all her fixtures were stained, light clothes were ruined and the screens on the taps became plugged with iron. The filters on her dishwasher and clothes washer plugged as well and affected performance.  
Then Susan's hair tinted red... Yikes! That was it!!
Meanwhile, Susan had completed improvements to her house and purchased an on-demand hot water heater. Susan knew this costly piece of equipment would be ruined by her high iron content water.
So, before installing the water heater, Susan decided to invest in water treatment for her home.
She began looking locally for a solution and had a water system salesperson come in and assess the problem. The salesperson made a few observations and took a water sample which, when completed, cost Susan $25.
After the water was tested the salesperson came back with 3 suggested systems.
A $3,500.00 system comparable to the FOB.


A $5,000.00 system that would also soften water with a salt backwash system, which Susan felt was not necessary as hardness was minimal since there was no scaling in kettles and she did NOT want a softener anyway.


A $10,000.00 dollar system that would supposedly make her water perfect.

Susan couldn't afford or justify payments on any of these and did not appreciate the sales pressure for a softener. So Susan started research on Google and YouTube. Serendipity led Susan to our Gary the Water Guy YouTube channel.
Susan was impressed with Gary's honesty and willingness to share knowledge on how systems work and how to do your own installation, maintenance and repairs. She contacted us first in January asking about the price of the FOB with a series of questions including: how much did it cost, and did it come with installation fittings?
We needed more information from Susan to make sure the FOB would be the best recommendation for her iron concern, like how much iron was in her water, what the pH was, and what the flow rate was from her well pump.
Susan shared her water analysis, but it didn't show her well pump flow rate. No problem, we emailed Susan a link to this video which showed her how to calculate her flow rate.
With the help of a friend, Susan put together the info to calculate the flow rate to ensure the iron filter we recommended would work for her.  Susan's flow rate was 15 gpm which was more than enough for the FOB she needed to fix her water. We then emailed Susan a draft order for the pricing and Susan completed the order.
IRON AND SULPHUR FILTER SUCCESS
Susan's iron filter arrived in February — after being shipped 2,324.9 miles (or 3741.57 kilometres) for FREE from Water eStore! She arranged for a local plumber to complete the installation. When Susan's plumber arrived to do the installation, he had a few questions, so Susan contacted us and we spoke on the phone to finalize a few details, before and after the installation was completed.
On March 16th, Susan sent me this email:  
"Here are some before and after pictures of the water. The rusty water had been in the tub till after my bath, and got darker the longer it sat in the tub 
The 2nd one is after the FOB was installed  I am so grateful to you, Gary.  It tastes better too!" 
Susan went on to say: "As you can see by my story, I was not treated very well before I came to you. I contacted 2 local providers, they both were somewhat rude and the one fellow that had the exorbitant prices was real pushy. I feel he thought he could take advantage of me because I'm a widow.
Thank you again for reasonable price point, all the information and your kindness and patience. You were God sent. 😊"
FROM RUSTY WATER TO CLEAN & CLEAR WATER
Susan's testimonial showcases the transformative impact of our FOB water filter system. The before and after pictures clearly demonstrate the difference in water quality, with the rusty water turning into clean, clear water. Not only did the FOB filter improve the appearance, but it also enhanced the taste of the water.
Susan's experience with other local providers highlights the importance of our dedication to affordable prices, informative customer service, and genuine kindness. We are grateful to have been able to provide Susan with a reliable solution that improves her daily life.
At Water eStore, we strive to ensure that every customer feels valued and taken care of, regardless of their circumstances. Thank you, Susan, for your kind words and for placing your trust in us. We are honoured to have been able to make a positive difference in your life.
>> Get FREE SHIPPING on Iron Filtration Systems here!
The FOB system certainly took care of Susan's concern, BUT before investing in one of these you need to check out this video!