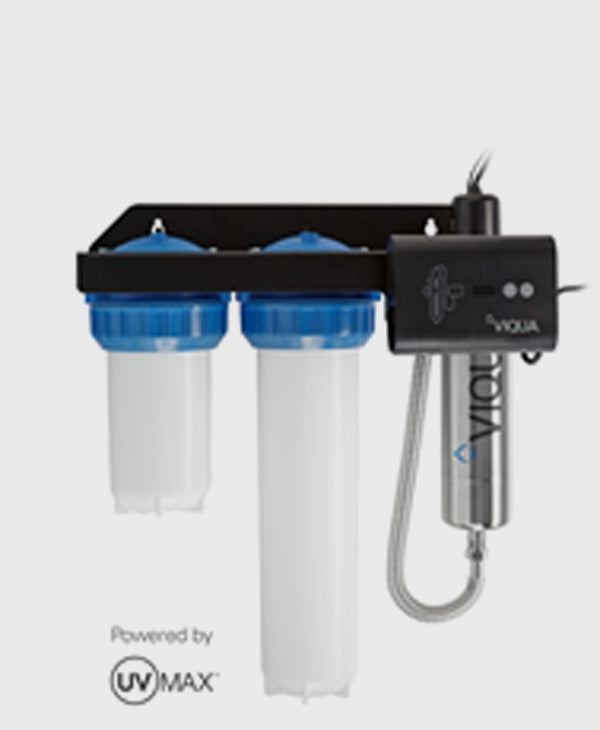 These are just some of the reasons why I love the Viqua IHS12-D4 Mini Rack Ultraviolet Disinfection System to make sure your families' water stays bacteria free!
1)  They are available in a couple of different configurations and sizes to give you the correct amount of filtration and disinfection in addition to handling your pumps' flow rate.  This IHS12-D4 is good for 7-10 gpm flow rate applications, the IHS22-E4 is good for 16-25 gpm and the IHS22-D4 has twice the sediment filter capacity of the IHS12-D4.
2)  They have this great LED readout which shows how many days remain before you need to replace the UV lamp.
3)  There is a removable connection at the bottom of the UV chamber so it can be easily winterized in situations where the plumbing in a home or cottage needs to be drained.
4)  Each sump has a removable drain plug so the sump can be drained before the filter is removed making it much easier because the sumps will be lighter and easier to handle.
5)  They are Made in Canada.
6)  They are Certified by the Water Quality Association (WQA)
7)  Very do it yourself friendly and easy to install because there are only one plumbing connection at each end.
8)  All metal ¾" inlet and outlet connections
9)  Low, 50 watt power consumption.
10) System will operate with as little as 4 and up to 100 psi water pressure.