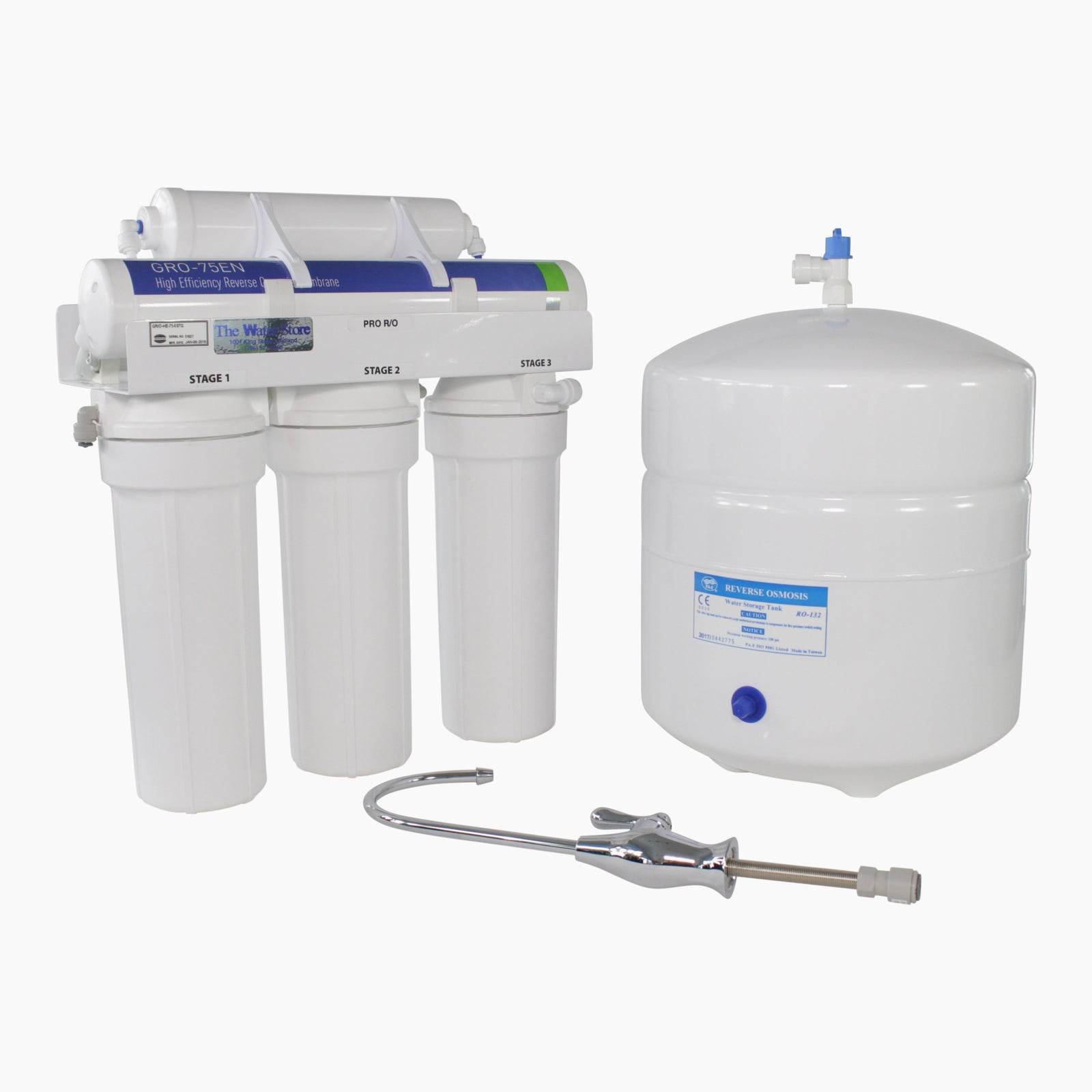 Due to over chlorinated and bad tasting water in most communities, Reverse Osmosis drinking water systems have become a necessity for every family by removing the chemicals and significantly reducing the mineral content by 90% getting back to almost pure H2O. With a Reverse Osmosis drinking water system you get great tasting, super pure water that not only tastes great on its own but makes your coffee and tea taste great too. Your family will save money compared to buying bottled water and it is incredibly convenient. These RO's feature double carbon pre filters to remove chlorine from your drinking water. I really like the larger high flow 3/8" tubing from the manifold to the tank and then the faucet. No more waiting around to fill your cup!! Also, as this is one of the few high efficiency RO systems currently available that use very little water in the process. 
So how does the Water Saver 75 High Efficiency Reverse Osmosis Drinking Water System perform?
Performance - 9/10 This Reverse Osmosis drinking water system consistently produces great tasting, super pure reverse osmosis drinking water and dispenses it super fast due to the 3/8" tubing. I am disappointed though to see that the faucet comes with only a ¼" connection which compared to a 3/8" connection will slow down the flow a little.
Capacity - 9/10 It's capacity is somewhat limited by it's tank size, although we have never had a complaint about this size tank being too small. If your water has a Total Dissolved Hardness (TDS) of under 2000 ppm and there are 6 or less in your household, you will get great performance from this RO. If there are more than 6 people, just add a larger 14 gallon RO storage tank available here https://thewaterestore.com/products/metal-reverse-osmosis-tank-14-gallon-1-4-part-tke-1070-w-1-4
Cost to Operate - 9/10 These Reverse Osmosis drinking water systems do not use any hydro and due to it's non proprietary filters and efficient use of raw water this Water Saver 75 can produce RO water for about 3 cents per gallon. The membrane is more costly than other generic membranes and will need to be replaced more often which will increase the cost of ownership over the years.  However, sine they use less than ½ the raw water during production you will save money by less water being wasted.
Installation - 9/10 It's small size and separate RO tank with four easy connections makes it very easy to install for the do it yourselfer. They come pre assembled, with excellent instructions, an installation kit and even tubing. It would be nice if they came with a John Guest style shut off for the supply line.
Maintenance - 10/10 Filter changes are easily done especially with the quick connect filter and membrane.
Features -10/10 - This Reverse Osmosis system takes care of all functions perfectly. I can't think of a feature it doesn't have that I would want.
Parts Availability - 9/10 Parts are readily available from the manufacturer and the distributor, the membrane is proprietary but readily available.
Longevity - 9/10 I expect the longevity of the complete system to be 10 years plus, but the membrane does have a shorter lifespan than standard efficiency units.
Reliability and Build Quality - 9/10 These are built by Pentair and they are known for building quality products.  They are built in China and not the USA but in their own plants in China.
Styling/Aesthetics - 9/10 Whether this is installed in the utility room in the basement, or under the kitchen sink it looks great and is very easy to keep clean. A fully enclosed manifold would make it even easier to keep clean.
Gary the Water Guy Overall Score 92/100
So what's the Verdict? I rate this as a Gary the Water Guy Best Buy for any and every family, especially for those that are concerned about water wastage from older and standard efficiency RO units. This is the RO we use for my family!
Hey if you enjoyed this video, I just recently made another video about how efficient the Water Saver 75 is and you need to watch that right now here https://youtu.be/S17l3Tt6xS4