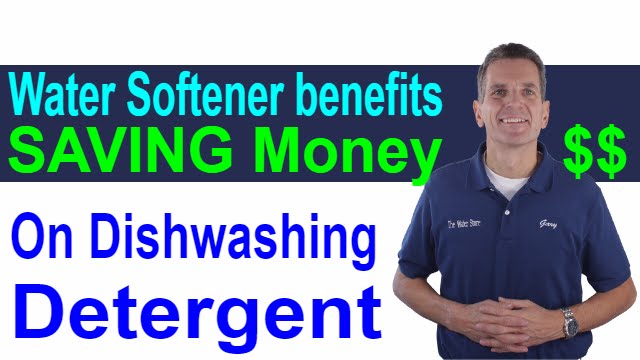 FREE SHIPPING CANADA Discount Pricing here
Get a FREE REPORT on the 10 Biggest Mistakes made when purchasing water treatment equipment and how you can avoid them.
For more great information about water treatment, subscribe! 
Follow me:
or email info@thewaterstoremidland.com
The Water Quality Research Foundation initiated the Battelle Study to test devices fed with softened vs unsoftened water under controlled laboratory conditions designed to accelerate the waterside scaling in dishwashers and quantify the performance efficiency.
This study was conducted to investigate the interaction of detergent dose and water hardness levels on the performance of automatic dishwashers. Removal of difficult soils, as well as the resultant appearance on dishes in terms of spotting and filming, was measured by Scientific Services S/D, Inc. located in Sparrow Bush near Middletown, NY.
Two dishwashers with the specified load, were used in all of these tests. The load consisted of:
• Dinner plates, silverware, glasses
• Standard soils for filming and spotting including oatmeal, dry milk, and grease
• Hard-to-remove-soils such as egg yolk, pizza sauce, spinach, brownie mix, fish, bread crumbs & olive oil
The guidelines of ASTM D 3556 were followed for the tests. Evaluations of the glasses and saucers were performed at the end of each of the two cycles after cooling and aging. At least three trained evaluators were used. Six commercially available detergents (4 liquid and 2 tablets) were used in this study with three being used in the main part of the study in a comprehensive way.
Detergent savings was also evaluated including tests for removing difficult soils in addition to the spot and film evaluation. The relationship between detergent dose and hardness was investigated with three nonphosphate automatic dishwashing detergents with two consecutive wash-dry cycles for spot and film. One detergent was evaluated for five cycles to ensure that effects do not change with increased number of cycles.
Statistically significant improvements by softening hard water were observed in spotting and filming performance as well as in better soil removal in automatic dishwashing. A graph showing the possible savings in detergent has been generated.
•  Detergent savings up to 70% was observed for dishwashing when softened water was used compared to hard water.
•  Depending on the soil, hardness reduction was found to be up to 12 times more effective at soil removal than increasing detergent dose.
•  Hardness reduction was ~6 times more effective at reducing spotting and twice as effective at reducing filming as increasing detergent usage.
•  One detergent was run for an additional three cycles to show that the hardness/dose performance relationship would persist.
• Air drying as a way to save electrical energy was evaluated and is promising to provide better results when softened water is used rather than hard water.
• With both tablet detergents, the beneficial effect of softening the wash water is much greater than the use of two tablets rather than one.
The dishwashers on either soft or unsoftened water made it through 30 days of accelerated scale testing, but the units on unsoftened water had noticeable scale buildup on all surfaces that had contact with unsoftened water.The bottom line is that softening your water will get your dishes cleaner, using less soap and energy than on hard water which will save you money! 
LOVE GARY THE WATER GUY AND WANT TO LEARN MORE ABOUT WATER FILTRATION FOR YOUR FAMILY? HERE ARE SOME NEXT STEPS!
1) Sign up to keep in touch with Gary!  
2) LET'S CONNECT!
Water eStore Midland Instagram
info@WaterEstore.com or info@WaterStoreMidland.com
4) SHOP!