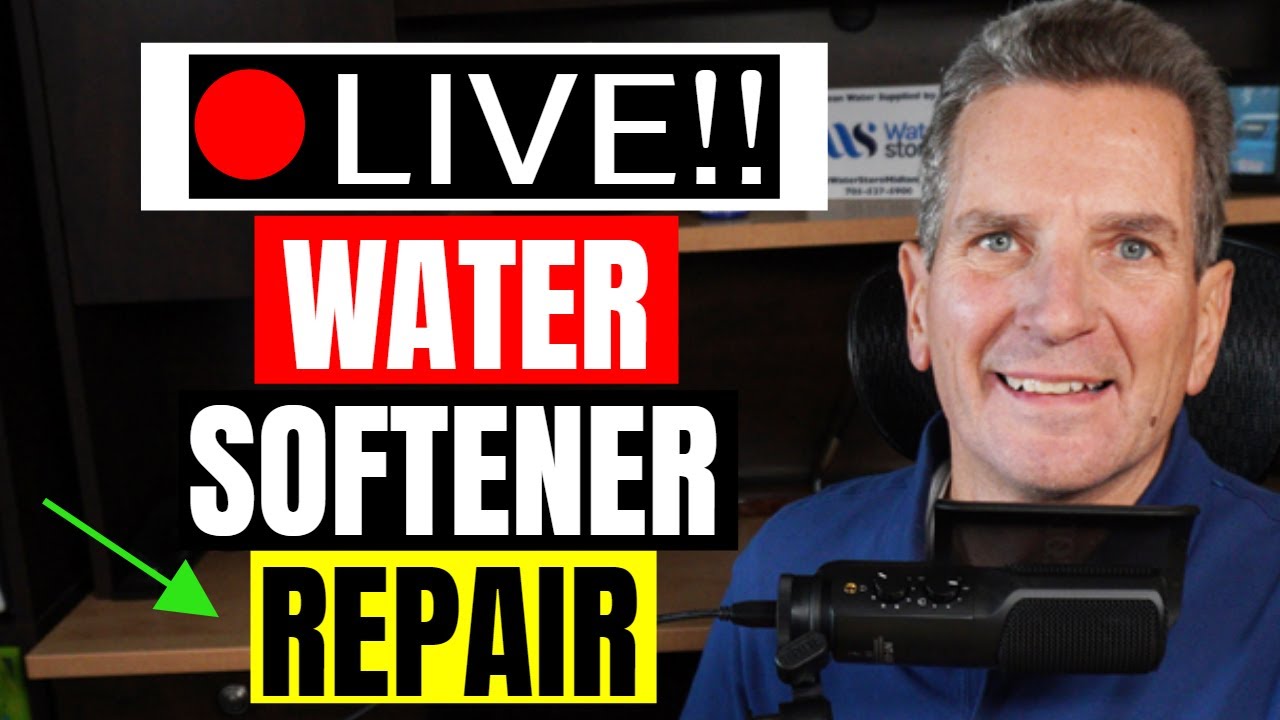 If you're looking to trouble shoot and repair your water softener, this video live stream is for you. In this video I'll explain how to troubleshoot and show you how to repair the 15 most common water softener concerns and along the way I'll answer all of your questions about water softener repair! This video is for anyone interested in learning how to repair a water softener. Whether you're a home-owner, plumber or work in the water filtration industry this live stream is for you! If you're not exactly sure how a water softener works, I suggest you check out my video on How does a Water Softener Work here
 • How Does a Water ...  
First of all, are you sure it isn't working? This video of mine shows you a couple of ways to test your water softener to make sure.
 • Is Your WATER SOF...  
Next you'll need to go through each of the following to see if any apply to your situation. Water Softener not softening your water? This video will help you trouble shoot and repair
 • Water Softener Tr...  
.The next series of concerns is regarding the salt, not using salt or using too much salt: What type of salt is best for your water softener? Does it make a difference? It sure does! This video of mine
 • What is the BEST ...  
explains the different types. How much salt should be in your water softener
 • How Much Salt Sho...  
You need enough salt so the water that the water softener adds to the brine tank absorbs enough sodium to properly regenerate the media inside your water softener If your water softener has stopped using salt, you may have a salt clog. This video of mine shows you How to remove a salt clog
 • How to Remove a S...  
If your water softener suddenly uses less salt and doesn't seem to be working at all check for a 3 way bypass –Make sure that there isn't a 3 way bypass involved that has been left open by mistake by someone, maybe you. Cleaning out your brine tank
 • Water Softener Ma...  
depending on the type of salt you use you may need to do this every few years or almost never. Too much water in your brine tank
 • Water Softener Tr...  
This video shows you how
 • WATER SOFTENER Tr...  
Is your water softener leaking or is it condensation? I always suggest insulating the pipes around all water treatment equipment as shown here
 • Ultraviolet Preve...  
but also adding a neoprene jackets like these
https://waterestore.ca/search?type=pr...
to your brine tank will not only minimize condensation and mold growth the jackets can be washed and reused. Water softener causing low water pressure or flow? You can test to see if the water softener is the culprit by bypassing it temporarily, if the flow improves, it's the water softener. If the media has broken down you will need to replace the media or replace the water softener. If you choose to replace the media. This video of mine shows you how
 • WATER SOFTENER RE...  
Water keeps flowing to the drain? This can be can be caused by the seals around the piston leaking or a stuck piston. Cleaning or replacing the injector or what's sometimes called the actuator is quite straight forward as this video will show you
 • Water Softener Tr...  
once they clog the water softener will stop using salt and stop softening your water. Water from water softener tastes salty? This can be caused by improper settings in the water softener. I can't stress enough how important it is that your water softener is set properly. Water softener media can get coated with hardness and iron and often you can restore the media with a water softener cleaner. Periodically using these cleaners as a preventative measure is also a great idea. This video shows you how
 • Water Softener Tr...  
Disinfect your water softener media by dumping 2 ounces of chlorine or bleach in the brine well and running a manual regeneration. I've got a great video here that shows you how.
 • WATER SOFTENER Tr...  
Preventative Maintenance live stream replay here
 • WATER SOFTENER MA...  
To learn more about water softener maintenance, troubleshooting and repair click here!
https://www.youtube.com/playlist?list=
LOVE GARY THE WATER GUY AND WANT TO LEARN MORE ABOUT WATER FILTRATION FOR YOUR FAMILY? HERE ARE SOME NEXT STEPS! 1) Sign up to keep in touch with Gary!
https://mailchi.mp/waterestore.com/su...
2) LET'S CONNECT!
https://www.facebook.com/WaterEstore/
https://twitter.com/WaterEstore
https://www.linkedin.com/company/the-...
https://www.instagram.com/Water_Estore/
https://www.instagram.com/WaterStoreM...
3) CONTACT! info@WaterEstore.com or info@WaterStoreMidland.com 4) SHOP! Midland
https://www.WaterStoreMidland.com
Canada
https://www.WaterEstore.ca
USA
https://www.WaterEstore.com
Please share this video
 • WATER SOFTENER RE...