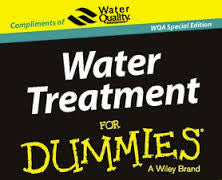 Video Transcript
Gary The Water Guy:
Hi, I'm Gary The Water Guy, and I own the Water Filter e-store and The Water Store, Midland Ontario. Today, we're doing a book review, Water Treatment For Dummies.

Gary The Water Guy:
So why do you need this book? I'm getting lots of phone calls and lots of emails coast to coast in Canada and the U.S. saying that they're getting conflicting information. A plumber tells them one thing, a water treatment professional tells them something else. You speak to another water treatment professional, guess what, they're being told something else again. So they want some basic information, they want some help. And so this book was put out by the Water Quality Association, which is the trade association for water treatment professionals like myself. I'm a certified water specialist. I went to training from the WQA.

Gary The Water Guy:
Now what they've done, they've taken a lot of that information, they've condensed it down into 52 pages and they put it all into layman's terms. So it will help any family. And so they've dealt with some basics in terms of water treatment basics, but also some common concerns and some. steps that you should be looking at taking.

Gary The Water Guy:
Now one of the best sections in the whole book is toward the end where it says 10 questions to ask a water treatment specialist, and that will help you differentiate between the people that really know their stuff or the people that have just started in the industry.

Gary The Water Guy:
So I'm giving you a copy of this for free, you can download it, just follow the link and check it out. And that's it.

Gary The Water Guy:
If you like what you saw today please click the subscribe button, that way you'll be notified about any of the new videos that become available on this channel. You can also check out our website at thewaterstoremidland.com, or the waterfilterestore.com.
And again, I'm Gary The Water Guy from The Water Store in Midland, Ontario. Thanks for watching.
Whenever you make an investment for your loved ones it pays to do some research.  I get several emails a month saying that plumbers and water treatment sales people are offering conflicting advice and the home owner isn't sure who to believe.  Sure, you can go to the internet, but again, lots of conflicting info!  So who do you believe?
The WQA or Water Quality Association is the international trade association for the water treatment industry.  They offer phenomenal training for water treatment professionals like Gary the Water Guy.  They have published this great book to help people just like you who want to make an informed decision and the right investment in water treatment for your family, the first time.
I think this book is great, it goes right through the basics from where water comes from to how it gets to your home and cottage, why you need good quality water, common concerns, comparing different treatment products and when and where to get help, all in 52 pages.  This small book is extremely helpful at explaining the basics in clear language that anyone can understand.
These days there are so many unqualified and new, transient and untrained sales people in the water treatment industry.  I especially like the section called "(More than) Ten Questions to Ask a Water Quality Professional" which when answered, will help you to decide whether they are who you should trust.
Download your free copy here 
https://cdn.shopify.com/s/files/1/0659/5447/files/Water_Treatment_for_Dummies_2nd_Edition.pdf?v=1608818422