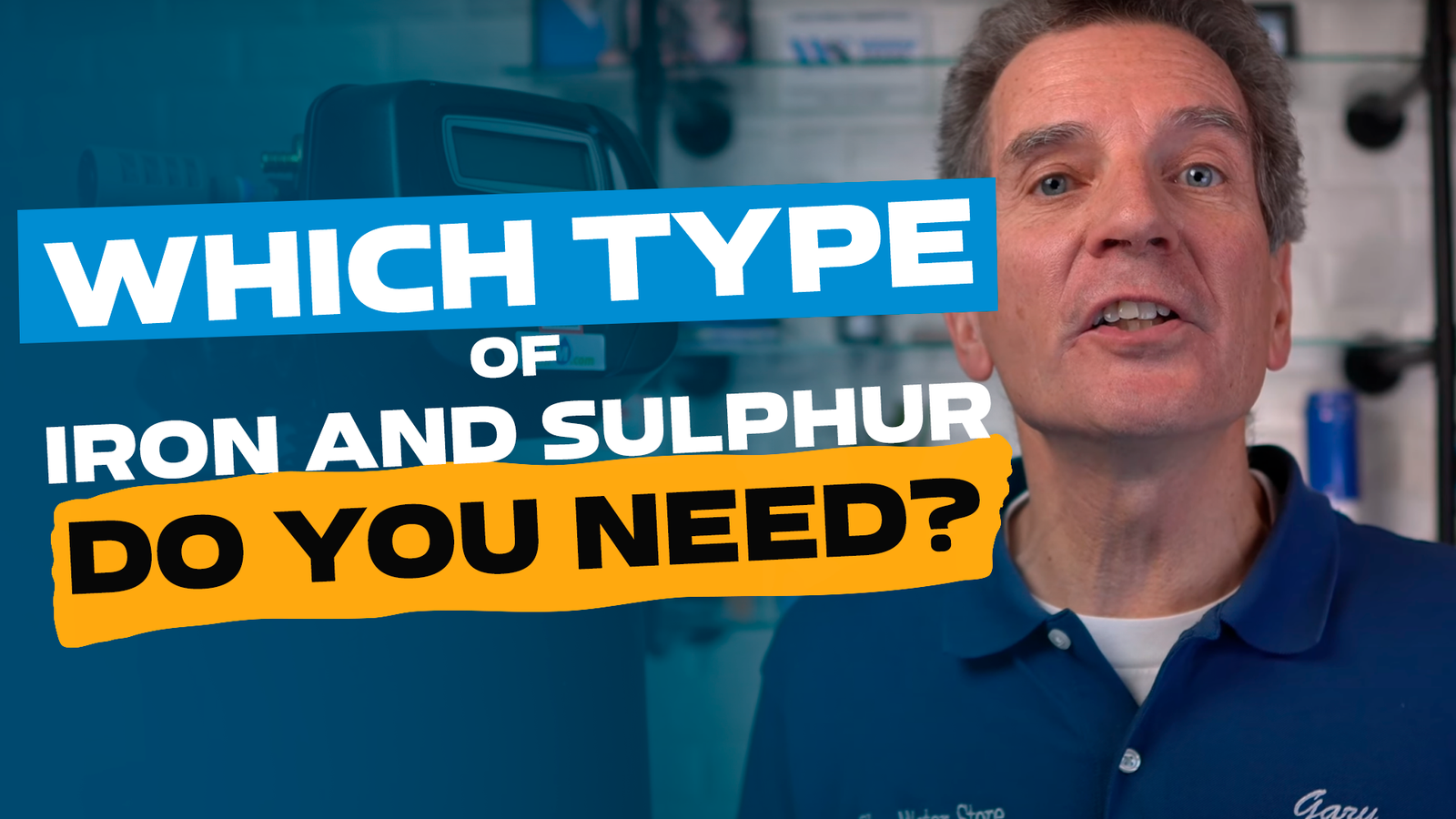 In a perfect world, one type of iron and sulphur filter would suit every family and every home. But it's a bit more complex than that.
Actually, it's a lot more complex than that. One type of filter is not "better" than the others. Each type has its own use case and its own benefits.
We've got HUM Water Filtration FOBs, FOCs and FOK, FONs available… and each one comes in 3 different sizes.
"Help?!"
No need to worry. This is what we do! We simplify the world of water filtration. So let's find the perfect filter for your home.
If you would like a visual aid, feel free to watch this video.
How These Systems Work
The systems draw air through its air intake using our Clack WS1 Premium CC water filtration valve to form an air cap within the top of the media tank.
As you use water, water is sprayed through the air cap which begins oxidizing the iron and sulphur out of the water. Next, the media traps the precipitating iron and the water flows through your home.
Every three days, your HUM Water Filtration Iron & Sulphur filter will automatically backwash all of the media. This cleans the iron, dirt, and sediment from the media and down the drain. Then, the air cap is rebuilt before the filter is put back into service to continue to remove iron and sulphur from your water.
What is the Best Filter Media for Iron Removal?
Let's start by demystifying what those letters stand for. The first two letters, the F and O mean that they are chemical-free, air-over media iron and sulphur filters. Simple enough. Meanwhile, that last letter tells you what media is inside the tank.
To determine which one you need, you're going to have to look at things like your water's pH levels, as well as your water's level of:
Of course, there are other factors. Your system is going to need enough water flow to properly backwash and clean everything out. Also, we're going to look at the amount of water your family uses.
Ok, let's break this down by the numbers:
FOB
Uses Birm as a media

Typically successful at removing up to 4 ppm of iron from your water when the pH is over 6.8.

Low amounts of sulphur will also be removed too

If you have more than 1.0 ppm of sulphur in your water, that will shorten the life of the Birm media and eventually you will need to replace it
FOC
Uses catalytic or centaur carbon as the media

If you have significant sulphur, but less than 1.0 ppm of iron, this is a great choice for removing both with one piece of equipment

Your pH should be over 6.8 for this system to work properly
FOK
This is the best choice for up to 9 ppm of iron and up to 2 ppm of sulphur

Works great at removing iron and sulphur when your pH is as low as 6.0 and up to 9.0

To remove up to 1.0 ppm of manganese, you need to have a pH of at least 8.0
Remember: It will only remove that manganese if your manganese content isn't over 10% of the iron content. The FOK will also remove sediment down to 3 microns.
FON
Uses Nextsand media

Great at removing sand from your water, but not iron

Katalox is better at everything else, so I would avoid the FON
Now Pick the Best One
Looking at those numbers, it seems like FOK would be the best choice. Is it? That depends if you have enough water flow from your well's pump to be able to clean the media.
For example:
The FOB and FOC require 5.3 gpm flow rate for a one cubic foot size iron and sulphur filter

FOK requires 6.5 gpm.
Now you're probably asking, "How do we determine our pump's flow rate?" Once again, we're here to help! Watch this video to find out how.
Larger Units, Larger Flow Rates
Once you get into the larger units, the flow rate required will increase significantly.
To make the best choice, you will need to know the following:
Iron in ppm

Sulphur in ppm

Manganese (if you're getting black staining) in ppm

pH

Flow rate from your well's pump

Number of people in your household
Don't know your iron content? No problem! As always, we're here to help. Simply mail us a water sample and we will test it for you. Mail it to:
Water Store
1004 King Street Midland
Ontario L4R 0B8
Once you know your flow rate, use the number of people in your household to choose the size of your iron and sulphur filter.
For 2.0 ppm or less:
1.0 cubic foot up to 4 people

1.5 cubic feet 4-6 people

2.0 cubic feet 6-8 people

3.0 cubic feet 8-12 people.
For over 2.0 ppm
1.0 cubic foot up to 2 people

1.5 cubic feet 2-4 people

2.0 cubic feet 4-6 people

3.0 cubic feet 6-9 people
Make sense? Shop iron filters here! 
Also, please remember these systems can't be used for irrigation or agricultural purposes. Home and cottage use only!


Do You Have More Questions?
If you have any questions, you can contact us by clicking here.