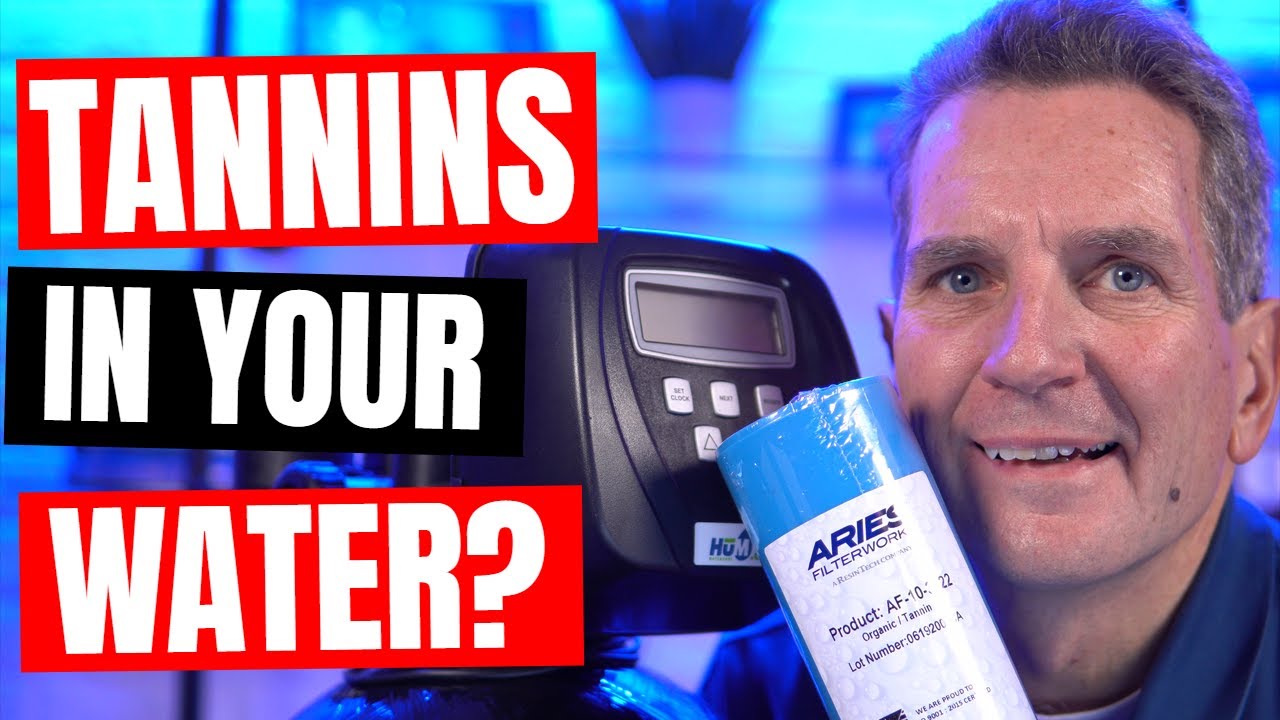 Do you find yourself frustrated with the brown water that comes out of your taps? Are you tired of hearing complaints from your family and friends about the colour and smell of your well or lake water? Worry not! As a water filtration specialist, Gary the Water Guy is here to help you conquer crappy water for your family.
In this blog, I'll break down everything you need to know about tannin filters, including how to tell if tannins are causing the discolouration, the different types of filters available, and how to choose the best one for your home.


IS YOUR TAP WATER BROWN?
Typically colour in your water can be caused by a few things but if the colour is brown or a rusty brown it can be either tannins or iron. How do you know which one? You could either:
Have your water sample sent to a lab for testing which can be costly
Mail your water sample to us for testing, which is FREE but takes a while
Or you can do a couple of simple tests yourself!
AT-HOME DIY WATER TESTING
Here's how to test your own tap water at home!
TEST 1: Get some white styrofoam cups, run some water and check to see if there is any colour in the water immediately as the water flows from the faucet into the cup.
If there's no colour, it's not tannins.
If it turns brown when you let it sit, it's not tannins, the colour is being caused by iron.
If there is colour in the water immediately when it flows from the faucet it could be either tannins or iron and you need to move on to the second test.
TEST 2: The next test, to determine if your water with colour in it is tannins or iron is to add about ½ teaspoon of Iron Out, stir it up and, if after the water clears all of the colour is gone, it is iron and you need an iron filter.  If the colour remains, you have tannins in your water.
>> Need some Iron Out? Find it at Water eStore here. 
NOTE: Keep in mind that if your water source is well water you may have both tannins and iron in your water and you would need to remove the iron before the tannins.
HOW TO REMOVE TANNINS FROM YOUR WATER
So now that you know you have tannins in your water, how do you get rid of it? 
If you use very little water you might consider a cartridge-type filter like one of these for your home — but be careful, that cartridge filter will only remove tannins from about 300 gallons of water and at only .5 gpm.  So this will only work for a cabin or cottage where there is very little use or for a single faucet at the kitchen sink.
For a whole house application, you would need one of these tannin water filters. And if you think it looks exactly like a water softener, you're correct!  They look and work exactly like a water softener.
OPTION 1: REMOVE TANNINS WITH A TANNIN FILTER
Tannin filters have two tanks, one with a control valve at the top, which is called the media tank. The other tank (that looks like a garbage can) with a lid that you open, holding the salt, is called the brine tank.  
All of the water in the house runs through a bed of specialty-purpose ion exchange resin. This resin fills most of the media tank.  As water passes over the beads, the tannins stick to the beads and are removed from your water. 
Eventually, the resin gets covered with tannins and those tannins need to be removed from the media so they can continue to remove the tannins from your water. The tannin filter regenerates every 3 days, or sooner if the capacity has been used up, which typically is programmed to happen at night, or anytime there is very little water usage in the home.  By the way, a tannin filter uses about 12 lbs of salt per regeneration.
Regeneration starts by automatically backwashing all of the resin and flushing the debris to the drain while fluffing up the resin.  Next, the salty water from the brine tank is sucked up into the media tank.  As the salty water or brine runs over the resin beads it releases the tannins and recharges the beads while flushing the tannins to the drain.  
Next the resin is fully rinsed to remove all of the brine and settle it back down into place.
The last step of regeneration consists of the tannin filter valve putting the correct amount of water into the brine tank to start making brine so it's ready when the next regeneration is needed.
Whatever you do, do not get a combined Tannin filter and water softener.  They significantly prioritize softening so after a very short time the tannin portion of the system fails and you need to replace all of the media, which can easily cost you over a thousand dollars!
OPTION 2: REMOVE TANNINS WITH A REVERSE OSMOSIS SYSTEM
Another way to remove tannins from your water is with a Reverse Osmosis (RO) system. I don't recommend RO for tannin removal for the whole house, cabin or cottage BUT if all you want to do is remove tannins from your drinking water, you can definitely use our HUM Water Saver 75 for tannin removal. 
>> SHOP THE HUM WATER SAVER 75 RO SYSTEM HERE!
INSTALLATION AND ORDER OF WATER TREATMENT SYSTEMS
Tannin filters install exactly the same as a water softener. 
If you have multiple pieces of water filtration equipment for your well water, the tannin filter goes AFTER your iron filter and water softener, but BEFORE the pre-filtration for your UV Light.
There you have it — it's time to say goodbye to brown water and hello to clean, fresh water! Whether you're a homeowner, plumber, or water filtration specialist, we hope this blog has provided some valuable insights that were easy to understand and helpful in making the best decision for your family's water treatment needs.