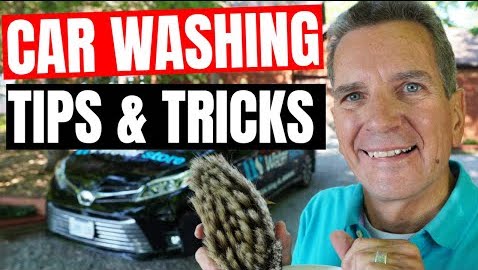 Hi! I'm Gary the Water Guy, and I'm passionate about water filtration and cars. If you're looking for a quick, simple, and (dare I say) fun video on how to wash a car and get the best results, you've come to the right place. Today I'm sharing 12 tips and tricks that will make you the envy of the neighbourhood with your super clean car. These tips are for everyone, no experience necessary, and you'll love my fast drying technique!
A clean car not only looks great but it also protects your vehicle's paint, and can help slow down oxidation and rust. Plus, you'll get better resale value for your car at trade-in time if it's kept in great condition. 
Everyone loves a clean car but not many people know how to get the best results doing it themselves. Here are my top tips & tricks on how to make your DIY home car washes super easy, fast and help your vehicle really shine! 
GARY THE WATER GUY'S PRO CAR WASHING TIPS
Park your car in the shade before washing, and make sure the surface is cool before you start.


Use softened water, you'll get far more suds AND virtually no streaks or water spots when you're finished. 


This is very important!

 

Use a soap specially made for car washing – do not use dishwashing soaps as you'll remove any wax that is on the car and dry out the finish in no time.


Start by rinsing off the majority of the dirt from the vehicle with your hose.


Fill a bucket with soapy water. Using a soft brush, start scrubbing at the top of the car (where it is the cleanest) and spread the soapy water from top to bottom over the whole car to soak off the dirt,

 

except the wheels.


Pay special attention to any bird droppings or insect carnage along the way and make sure that gets scrubbed clean. 


Dump out the dirty water and refill your bucket with fresh water and soap for the wheels.


Wash the wheels and then rinse the whole car, from the top down.


Use a California Blade to safely and quickly remove as much water from the surface as possible.


Remove any left-over water spots (except on the wheels, don't touch those yet) with a 100% cotton towel

 

with the ends removed (towel ends usually aren't 100% cotton and may scratch). Don't forget to wipe down the door jams! 

GARY'S QUICK DRY TIP: Use a leaf blower to very quickly get rid of excess water!


Use an old (clean) t-shirt to wipe down and dry the wheels.


Whatever you do, DON'T take your car to a commercial car wash! They use extremely powerful soaps that will dry out your paint and those brushes leave scratches.


There you have it! My 12 top tips to achieving a perfect at-home car wash.  


Have hard water? Need a water softener? At Water eStore, we feature both regular efficiency water softeners from Clack Corporation and Aquamaster High Efficiency Water Softeners to make life easier for your family.  
Click here to find the Water Softener that is best for your home - and get FREE SHIPPING across Canada!
Looking for more? Go here for your next video on Conquering Crappy Water at Home.
Video Transcript
Gary The Water Guy:
Everyone loves a clean car. Right? Well, if you're looking for a fast, easy, and dare I say, fun way to wash your car, you found the right video. Just follow these 12 tips and tricks, that I'm going to share with you today, and you'll be the envy of your neighborhood with your super-clean car. No experience necessary and you'll love our fast drying technique coming up, right now.

Gary The Water Guy:
Hi, I'm Gary, the Water Guy, and I simplify water filtration to help you conquer crappy water for your family. I'm super passionate about cars and water filtration. A car that's washed regularly, the paint lasts a lot longer, it's more resistant to rust, you get better resale value and let's face it, it looks fantastic. Every one of these tips and tricks will contribute to making a better car washing job.

Gary The Water Guy:
All right, so where and when you wash the car is very important. You need to make sure the paint is cool to the touch and you need to make sure you wash it in the shade, so the sun beating down on it doesn't dry the car too quickly, before you can get to that stage. The water you use is vitally important. You need to use softened water. Hard water will leave those white streaks on it and you won't be able to get them off and it's going to make a real mess. So if you don't have softened water at your home, because you don't have a water softener, you could always go with a water softening cartridge, something like this. Now be forewarned, these don't last very long. In fact, if you have a hardness of 10, for example, you're only going to get 75 gallons of softened water going through this filter because it only has 750 grains of capacity.

Gary The Water Guy:
The next thing you need to look for is soap. You need to use a specific car washing soap, doesn't matter what brand it is, it just needs to be specifically for car washing. Do not use dish washing soap or aggressive soap like that. It will dry out the finish and it will make it look faded very, very quickly.

Gary The Water Guy:
So we start by hosing down the whole car, starting at the top, and we hose down any dirt that's on the side or any mud or whatever. And the idea is that, obviously we want to wash as much of it off at this stage as we can, but also any dirt that's on there, we want to make sure we soak it with the water. And again, that's one of the reasons why we're doing this in the shade, so the water doesn't dry too fast, right off the car.

Gary The Water Guy:
So once you've rinsed the vehicle all over, washed off as much of the dirt along the bottom that you can, then the next step is to get your soapy water. So I've got the soapy water mixed here. Now read the directions on the car washing soap that you purchase. This one is one ounce for every gallon of water. So mix that in here and have a nice soft brush for spreading the water. I've got a pretty big van here, so I've got something with a bit of an extension handle on it. Now, if your water is hard, you're going to need to use more soap, so keep that in mind.

Gary The Water Guy:
All right. We're starting at the top of the vehicle because that's where it's cleanest and washing those areas first and then we're going to work our way down. So me, because I'm a bit of a fanatic about cars, I wash the roof of every van or every vehicle I have. Some people may not want to wash the roof, I get it, especially if it's a particularly tall vehicle. But anyway, so at this stage, we're going to spread the soapy water all over the whole vehicle. That beeping you're hearing is because I have the keys in my pocket. So once we've soaked the whole top of the vehicle, we work our way down toward the bottom and the bug splatters on the front of the vehicle, the headlights, the hood. And then we work our way down the sides of the body, the bottom portion of the body, to soap all that area, but not the wheels. We leave the wheels to the very end.

Gary The Water Guy:
So I've dumped out the dirty water and I've mixed up some fresh water, again, maybe only a gallon or so, and added some fresh soap in that, because now we're washing the wheels. The wheels are always the dirtiest part of the car and so you need to make sure that you get those clean, but you don't want to use that dirty water that you're using for washing the wheels on the rest of the car because it could scratch the paint. Once we finished soaping the whole car down, so the soapy water has a chance to soak off any dirt that's on there, we've washed the wheels, so now it's a matter of rinsing the whole car. And again, we start from the top and work our way down.

Gary The Water Guy:
So now we need to get all the water off. So, like I say, if you used hard water, you have to really be careful getting every single last drop off because otherwise you'll get those white, crusty stains on your car. Now, if you use soft water is not as important. Always the job is much easier with soft water. So there's two things we're going to use for this. We're going to use a California blade and we're also going to use a 100% cotton towel. So it needs to be 100% cotton and I've used this towel for probably 15 years, got a bunch of them. But I've also cut the ends off because I found that the ends aren't 100% cotton and so because of that, I didn't want to take a chance on scratching the surface.

Gary The Water Guy:
All right, so we need to start with the California blade. This thing's truly magical. Check this out. These California blades do not scratch the surface of the vehicle. I can't believe it. I've been using this one for almost 20 years and it's phenomenal. So the beauty of it is it gets rid of 99% of the water on the vehicle. And all you need to do is just go like this. And as you can see, the water just falls away. If you do a really good job with the California blade, you're done. If you don't do the absolutely perfect job or you're really picky, like I am, then you use that 100% cotton towel just to lightly wipe over the residual and you're done. A big vehicle like this only takes me, usually about less than five minutes to totally get all the water off using this method.

Gary The Water Guy:
If you're looking for an alternative to get the water off your vehicle more quickly, I got you covered check this out. But you still got to wipe it.

Gary The Water Guy:
So if you're particularly picky, like I am, another great place to do is wiping out inside the door jams, all around on all sides of the vehicle, top and the bottom and the outside of the doors. I find that makes a huge difference. If you do the outside of the doors right from the time you purchase the vehicle, right til the time you get rid of the vehicle, often the vehicles look like new. And now this van's only a month old, so it's not an indicator but if you wipe it out like this every time that you wash your vehicle, you'd be amazed at how long it looks like a brand new vehicle.

Gary The Water Guy:
I also like to do under the hood, just around the outside, just to get the water that's puddling inside there. If you do this every time or even every second time, it doesn't get all that dirty, but it just is so much cleaner in here and so much more nicer, especially if you've got pride in your vehicle, it really makes a huge difference. And again, the inside up here. And also do the same with the back.

Gary The Water Guy:
So when it comes to the wheels, I just use a rag. I don't use that cotton cloth, cotton towel, I showed you earlier, 100% cotton, because I don't want to get grease, et cetera, on that. Remember the wheels are the dirtiest part of the car. So I just use an old rag and just wipe down the wheels. Now, if you want to get really particular, you can wipe down each individual spoke and do in between the spokes and that kind of thing. But like I say, especially on wheels like these that are a little bit gray in between, it doesn't show as much. But again, it depends on how particular you are if you want to wipe inside each one of those. But like I say, it's not really all that necessary unless you're super particular.

Gary The Water Guy:
I highly suggest you get the vehicle waxed or wax it yourself, that'll make keeping it clean much easier. Also avoid those automatic car washes. They use wicked soaps and that'll dry out the finish, it'll scratches, swirl marks, that kind of thing. So definitely try to avoid that. And for your next video on conquering, crappy water in the home, click over here and I'll see you there.