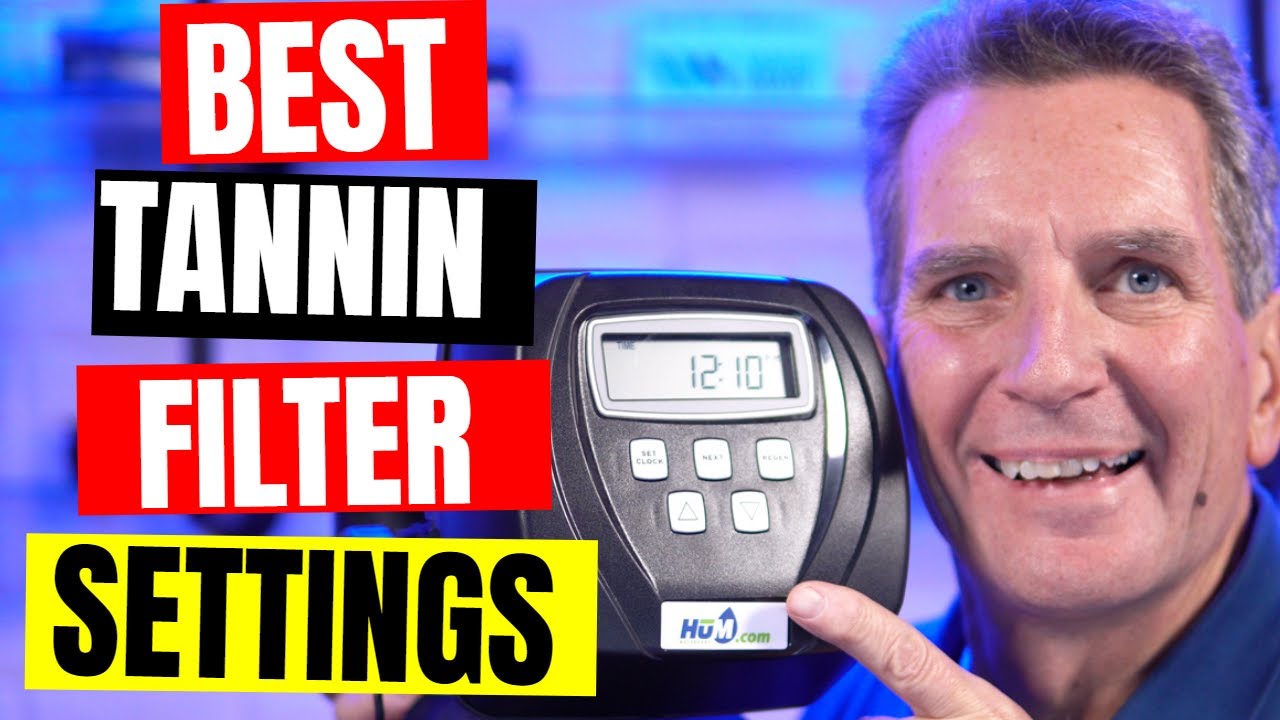 Do you want to learn how to program the Best settings for your Tannin filter? A Tannin filter looks like a water softener but how does the programming differ? Maybe you've recently invested in one of our HUM Tannin filters and want to confirm the settings? If you're not sure how a tannin filter works, check out this YouTube video of mine
 • Do You Have IRON ...  
Valve Reference Guides from inside faceplate
http://www.valvereferenceguides.com/
HUM Clack WS1 CC Manual
https://cdn.shopify.com/s/files/1/065...
First check to see if your valve is locked by pressing the NEXT and down arrow at the same time. You should get the next screen but if the next screen does not appear in 5 seconds the lock on the valve is activated. To unlock press ∇, NEXT, ∆, and SET CLOCK in sequence, then press NEXT and ∇ simultaneously for 3 seconds and it will unlock the valve. You may need to repeat the procedure a couple of times to get it unlocked. First set or check the Cycle Sequence Press Next and Down twice and select valve size and if it is a single or a twin. If you have a single tank and you are getting an error code 106 it typically means you have 1.0t set here Press Next to select: Alt off if this is a single valve system on either one or two tanks. Again, if you are getting an error code 106 it typically means you have nswb Press Next to select dp off as we do not want the valve to be controlled by an outside signal connected to the DP switch on the circuit board. Press Next to choose what cycles you want and in what order. You will start with a backwash, dn brine, backwash unless you want to limit water waste, you can eliminate this cycle and go right into rinse, then rinse and fill. You still need to have the last cycle actually be end. System Setup Press Next and Dn, for a tannin filter it should be set to softening. Press NEXT and when you get to 1 Backwash default is 8 minutes but if you want to limit water usage you can back it off by a couple of minutes or if you have significant sediment you can increase by a couple of minutes but remember that you may encounter other problems with the systems performance if you make changes. Next to brine, typically 60 minutes Next, second backwash, typically 8 minutes but if you are tight on water you can eliminate or back off. Next Rinse, to finish getting rid of the brine and settle the media back down. Next lbs fill. Set to 14 lbs for each 1 cubic foot of capacity. Next Capacity. So for a 1 cubic foot tannin filter, set at 30,000 Next Regen –For a one cubic foot Tannin filter where you would want the system to regenerate after 500 gallons of water usage or 3 days whichever comes first you would set this to 500. For a 2 cubic foot set it at 1,000, 3 cubic foot 1,500. Next Regen – Set to normal. System automatically calculates the reserve capacity and regenerates when gallons falls below reserve capacity or days override, whichever comes first. Next LBS Remaining – Set to off. This can be programmed but I won't go into it as I find it is not worth the aggravation. Installer Settings Press Next and UP – Regen Day Override – Typically 3 days for Tannins Next – Set Regen time, hours and minutes. Be sure that you set different regen times when you have multiple pieces of equipment. You do not want them regenerating at the same time. Want to learn even more about Clack Water Filtration Valves? Check out my Playlist here
 • Clack WS1 Water S...  
LOVE GARY THE WATER GUY AND WANT TO LEARN MORE ABOUT WATER FILTRATION FOR YOUR FAMILY? HERE ARE SOME NEXT STEPS! 1) SUBSCRIBE
https://www.youtube.com/user/WaterSto...
2) LET'S CONNECT!
https://www.facebook.com/WaterEstore/
https://twitter.com/WaterEstore
https://www.linkedin.com/company/the-...
https://www.instagram.com/Water_Estore/
https://www.instagram.com/WaterStoreM...
3) CONTACT! info@WaterEstore.com or info@WaterStoreMidland.com 4) SHOP Midland
https://www.WaterStoreMidland.com
Canada
https://www.WaterEstore.ca
USA
https://www.WaterEstore.com
Please share this video
 • Clack WS1 TANNIN ...