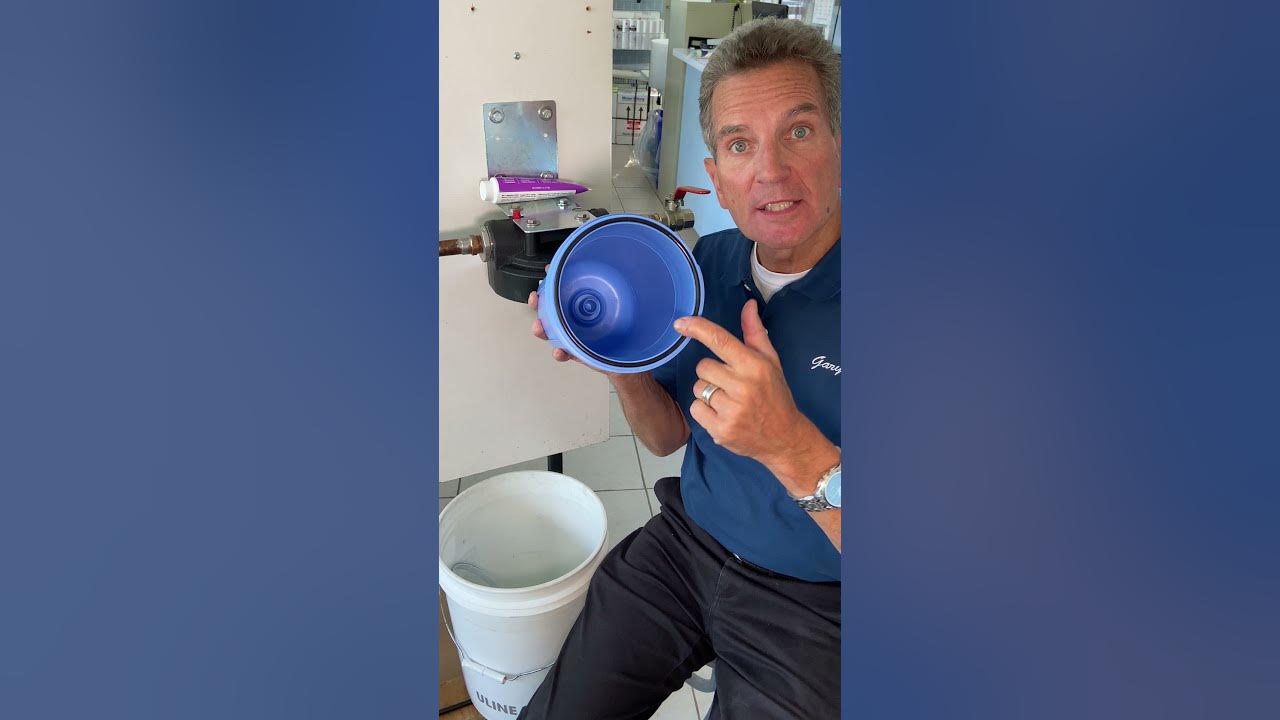 Changing Your Water Filter in your Home, Cottage or Cabin is Easy – check out this easy 10 step water filter replacement procedure with @Gary The Water Guy 1) Turn your water supply off. 2) Release any water pressure in the water lines before you unscrew the water filter housing. If the filter housing is stuck, check out this video
 • BEST 5 WAYS to OP...  
3) Place a bucket under the filter housing and unscrew the housing. 4) Remove the old filter and clean the inside of the housing with soapy water and towels to remove any built-up debris. Check to make sure that there are no old rubber gaskets inside the filter housing. 5) Put some clear plumbers silicone grease on the O-ring, which will help preserve the O-ring, make it seal better and make it easier to remove the next time. 6) Unwrap and put your new filter into the housing. 7) Turn the main water supply back on, partially. Check for leaks around the cartridge housing, if there are no leaks, open main water supply fully. 8) Flush the new filter with at least 3 or 4 gallons of water or until the water flowing after the filter is clear. Subscribe for more water filtration videos.
https://www.youtube.com/c/garythewate...
Replacement filter – if you're not sure which one you need, this YouTube video of mine will help
 • Which MICRON sedi...  
Shop Water Filters here
https://waterestore.ca/collections/ca...
Plumber's silicone grease.
https://waterestore.ca/products/plumb...
Click here for your next video on water filtration and I'll see you there!
 • Water Filter Cart...  
Any questions or comments about this video or water softeners in general? Please enter them below, I read them all and would love to answer yours. LOVE GARY THE WATER GUY AND WANT TO LEARN MORE ABOUT WATER FILTRATION FOR YOUR FAMILY? HERE ARE SOME NEXT STEPS! Sign up to keep in touch with Gary!
https://mailchi.mp/waterestore.com/su...
3) LET'S CONNECT!
https://www.facebook.com/WaterEstore/
https://twitter.com/WaterEstore
https://www.linkedin.com/company/the-...
https://www.instagram.com/Water_Estore/
https://www.instagram.com/WaterStoreM...
4) CONTACT! info@WaterEstore.com or info@WaterStoreMidland.com 5) SHOP! Midland
https://www.WaterStoreMidland.com
Canada
https://www.WaterEstore.ca
USA
https://www.WaterEstore.com
Please share this video
 • How To Change a W...