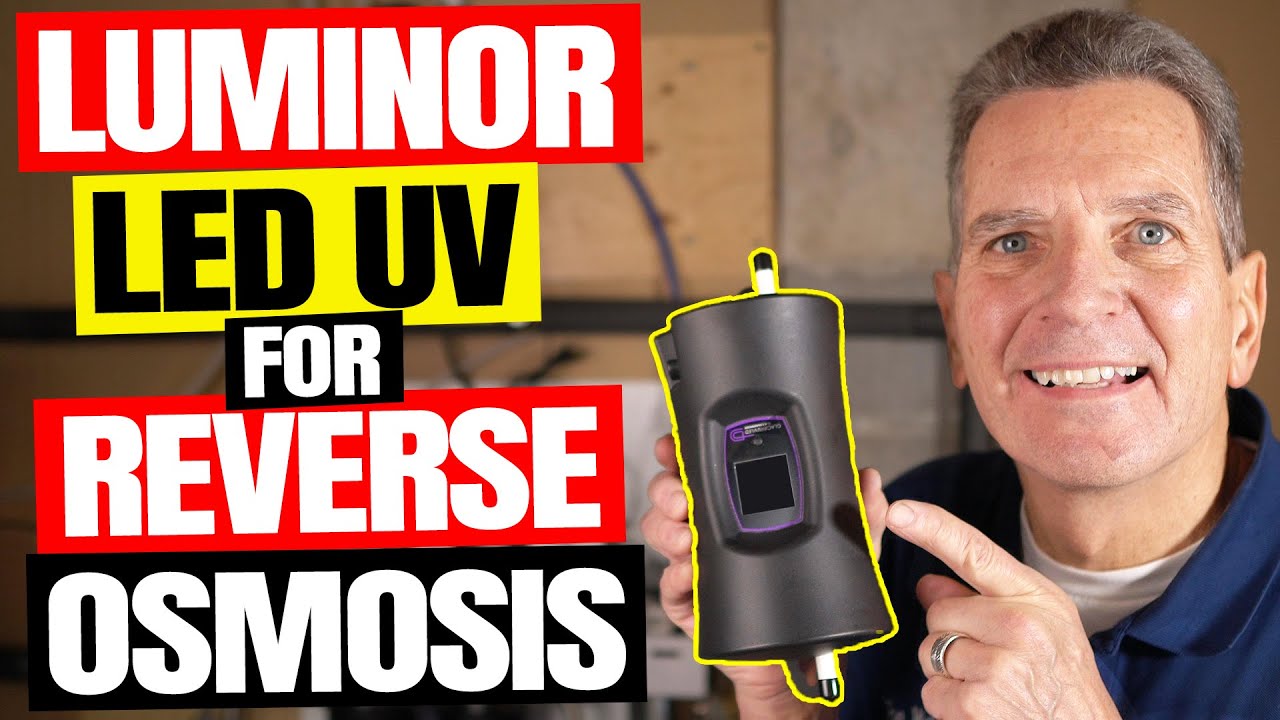 So, you're looking for a way to make the well or lake water at your home, cottage or cabin safe and bacteria-free for your family?
  If

 you can find a solution, you'd also like to avoid the inconvenience, expense and environmental impact of using bottled water.

  On top of that, y

ou've heard about Reverse Osmosis systems but know you still need an Ultraviolet Disinfection system to kill the bacteria — not for the whole house, just the drinking water.
Relax! I'm Gary the Water Guy and I've got the answers you've been looking for. Follow along as I review it for you today and guide you through how to install it in your home, cottage or cabin. 
SAFE & BACTERIA-FREE WATER FOR YOUR FAMILY
If you've been on the hunt for a low-power consumption, easy-to-install, zero-maintenance solution for bacteria-free drinking water, you've come to the right place. This Luminor GUV-5S LED UV system is the perfect solution to add to a Reverse Osmosis drinking water system for single-faucet drinking only bacteria-free water for every family. Let's get started with an overview of this system and then I'll share with you some of the amazing options available with this system for your connected home.
INTRODUCING THE LUMINOR GUV-55 LED UV SYSTEM
This Luminor GUV-5S LED UV system is super easy to install, requires zero maintenance whatsoever and, since it only uses power when water actually passes through it, there is very little power used to operate. This system is packaged with a 12-volt power supply and there is no need for a lamp change, EVER, which is totally unlike traditional UV systems. The UVC LEDs only turn "ON" when water passes through them, and lasts for 5,000 hours of "ON" mode operation. That's about 20 years of use for the average family!
PRE-TREATMENT REQUIREMENTS
Do you need a Reverse Osmosis system installed before this LED UV? Generally speaking, as long as your water satisfies these pre-treatment requirements you're fine without one... but I would highly recommend it! At the very least I would add a 10" 5-micron pre-filter.
Iron < 0.05 ppm (0.05 mg/L)

 

Hardness* < 1 gpg (120 mg/L)

 

Turbidity < 0.1 NTU
Manganese < 0.05 ppm (0.05 mg/L)

 

Tannins < 0.1 ppm (0.1 mg/L)

 

UV Transmittance > 90%

 
UV INSTALLATION CONSIDERATIONS
Easy to install, the Luminor GUV-5S LED UV system just mounts on the wall on a piece of plywood or inside a cabinet, with a simple 3/8" line in and out.
When considering an installation location:
Must be installed indoors.
Need enough space to get to the fittings.
Be sure that there is a shut-off before and after.
Need a tubing cutter and connectors for before and after.
Keep in mind that untreated water flows in the bottom and treated water flows out through the top.
You can install it under the sink, but I'm installing mine in the basement because that is where my RO is and I don't have an electrical outlet under the sink.
IMPORTANT: DO NOT OPERATE PRODUCT WITHOUT CONNECTING TO WATER SUPPLY. Do not look into the ends or directly at the UV light.
STEP-BY-STEP GUIDE FOR INSTALLATION 
Make sure the unit is secured firmly using two screws in place. Mounting Hardware may be needed depending on install.
Connect plumbing to the Bottom Inlet using a Push-to-Connect ⅜" Tube Fitting.
Connect plumbing to the Top Outlet using a Push-to-Connect ⅜" Tube Fitting.
Fill and pressurize the system to check for leaks in the plumbing. If a leak is found, re-check your plumbing.

 

Plug the 12VDC power adaptor into an appropriate AC electrical outlet. To prevent risk of shock, ensure that the AC outlet and power adaptor comply with local electrical safety codes.

 

Plug in the 12VDC Adaptor to the Bottom Power Port. The system should power ON.
LUMINOR UV SYSTEM OPERATION
The Luminor UV system is designed to operate in Standby Mode when there is no water flow, ensuring optimal efficiency and longevity. As soon as the unit detects water flow, the UV LEDs are activated, providing effective and immediate disinfection. The system automatically tracks and logs the cumulative time that the UV LEDs are turned on, allowing you to monitor the operational life remaining.
After water flow stops, the unit will continue running for 10 seconds before shutting off the UV LEDs. When the maximum operational life of the UV LED is reached, the unit will no longer provide proper disinfection and has to be replaced. 
If at any point during operation the UV LEDs overheat and exceed the Overtemperature Alarm Threshold, the system enters a cool-down period during which the UV LEDs are disabled until the temperature drops below the Overtemperature Alarm Release Threshold. During the cool-down period, the system no longer provides disinfection. Refer to Operation and Specifications for details.
>> Shop Luminor UVC LED GUV-5S here!

>> Shop Reverse Osmosis Drinking Water System here!
Optional Extras – Expansion Modes
Remote Alarm connection module: Allows for a connection to a remote device such as a buzzer, light, alarm system, PLC, etc.
Solenoid connection module: Connects a NORMALLY CLOSED line voltage solenoid valve to the system. With a GUV-5S system, the solenoid will only close in event of: UV LED failure alarm, system life expired alarm, or overtemperature alarm. The solenoid closes during an alarm that causes Unsafe Water Conditions.
WiFi module and accompanying IoT application: Allows you to connect your UV system to a smartphone, tablet, computer or other connected platform. View system status, receive SMS or email messages of alarm conditions and monitor the health of your UV from anywhere via this connected platform.
SHERPA: Allows you to monitor your UV LED system remotely from anywhere in your home. Remote monitors for all major and minor alarms that take place on the UV LED system. Simply install the module and place the small and stylish display in a convenient location that works for you.