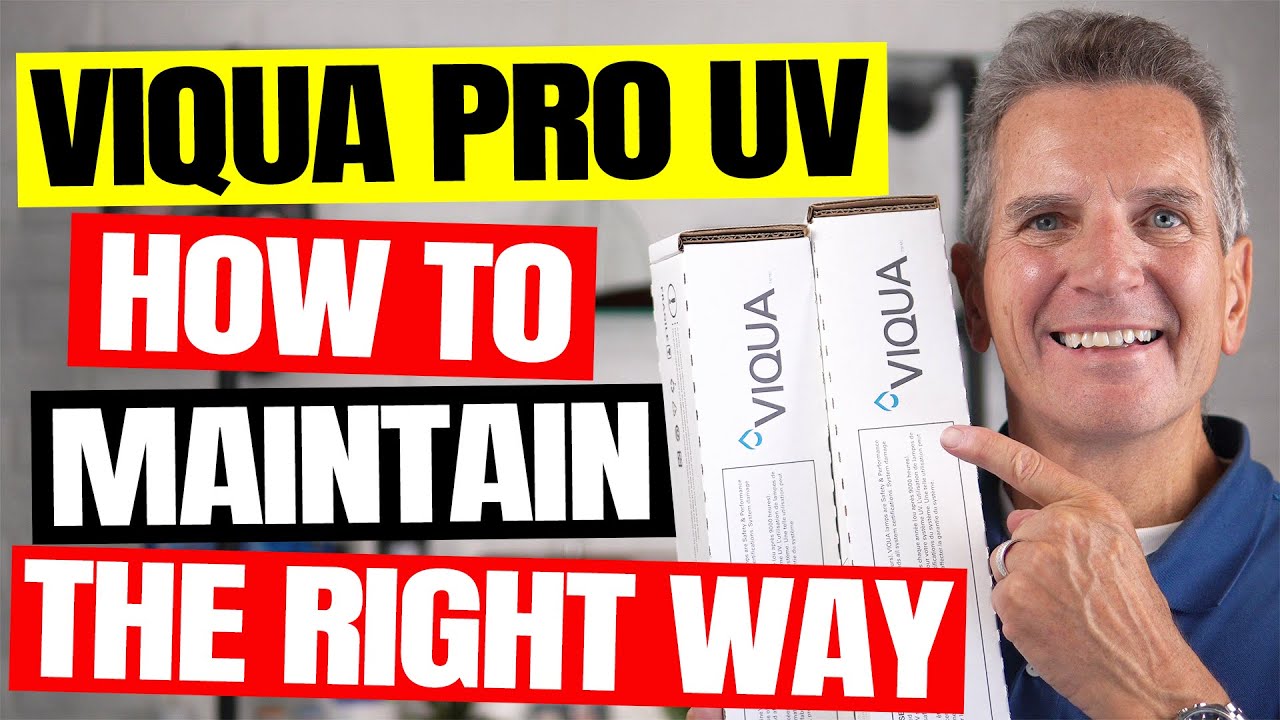 Worried about bacteria in your home, cottage or small commercial water supply? Give yourself peace of mind with a Viqua Pro Series UV disinfection system to ensure your water stays bacteria-free — it's the perfect solution! And don't worry if you've never maintained one before because we're here to help get you started. Today's guide will walk through all the maintenance steps needed for these reliable and effective water treatment systems.
BEFORE YOU BEGIN
If you're looking for more information on how a residential UV water system like the Viqua Pro Series actually works, cheque out this video to learn more. Then come back to this blog to follow along as we walk you through all steps necessary to properly maintain a Viqua Pro series ultraviolet disinfection system — no prior experience required!
IMPORTANT: GENERAL MAINTENANCE & SAFETY GUIDELINES
It's important to always keep safety top of mind when doing any kind of maintenance on an electrical system like the Viqua UV disinfection system.
Before you begin any maintenance tasks, remember to start by shutting off the power, water and releasing all pressure.
And, once maintenance is complete, remember that regular inspections will help ensure everything is running smoothly long-term!
COLD WEATHER ALERT: If your unit is in a seasonal home/cottage or commercial project, you must completely drain the entyre system if it will be exposed to below-freezing temperatures!
VIQUA UV SYSTEM MAINTENANCE FREQUENCY
Staying on top of regular maintenance for your Viqua Pro Series UV disinfection system is crucial to maintaining optimal, safe performance. Give yourself one less worry by following the manufacturer's recommended guidelines for upkeep and care as outlined below!
UV LAMP: Every 2 years or 18,000 hours of use.
UV SLEEVE: Clean the sleeve every time the lamp is replaced and anytime you notice the UV dosage dropping steadily, or replace it after every 5 years of use. 
UV SENSOR: We recommend keeping a spare sensor on hand in case it fails so you can replace it right away and ensure seamless system operation. 
PRE-FILTERS: Replace your pre-filters based on your water usage, whenever they get dirty and slow down the flow, or at least once a year.
VIQUA PRO SERIES REPLACEMENT PARTS & TOOLS NEEDED
Viqua has revolutionized UV water systems, with a presence in over 600,000 homes and businesses around the globe. Their commitment to quality has made them one of the top names in residential and light commercial water purification systems today — which is why we carry and recommend their systems at Water eStore. We offer FREE SHIPPING coast-to-coast and discount pricing always!
To perform your Viqua Pro Series maintenance effectively, you'll need some replacement items on hand for your sized unit. In addition to the items listed below, you'll also need replacement pre-filters available along with tools such as a filter housing wrench, a descaler such as CLR, cleaning rags, and a bucket. 
For Viqua Pro 10
For Viqua Pro 20
For Viqua Pro 30
Once you have everything above prepped and ready for maintenance and potential replacements, follow along with the how-to maintenance chequelist below!
PRO TIP: Be sure to watch Gary the Water Guy's full Viqua Pro Series maintenance demonstration video below before getting started for additional DIY advice and time-saving maintenance tips!


VIQUA UV SYSTEM MAINTENANCE: A STEP-BY-STEP GUIDE
Shut off the water coming into the system and going to the house via shut off valves.
Shut off the power and wait for lamp to cool down 10 minutes.
Drain out all the water from the UV system to release the pressure. 
Pinch wire form to release the lamp connector.
Remove the lamp connector.
Rotate and remove the UV lamp by turning it slightly and pulling up from end. Do not touch the glass!
Remove the sleeve bolt from top of the sleeve assembly.
Remove screw from the sleeve bolt. Put bucket underneath to catch any water still in unit. 
Insert the sleeve removal tool that came with the unit into the bottom of the sleeve. This tool is key to removing the sleeve without breaking it!
Pry sleeve upward until it comes loose. 
Remove sleeve through bottom or top, whichever is easier.
Remove o-ring from top of sleeve.
Clean the sleeve with a cloth and descaler, such as vinegar or CLR, until spotless. Don't touch the glass with your fingers! If it can't get spotless, sleeve needs to be replaced. 
Connect the sleeve bolt at bottom of the sleeve assembly. 
Handling carefully with a cloth, reinstall the sleeve with etched arrow pointing up so tapered end is at the bottom.
Once in, reinstall the new lubricated o-rings over the top end of the sleeve.
Connect the sleeve bolt to the top of the sleeve assembly.
Remove the sleeve bolt at the bottom of the sleeve assembly.
Reinstall the greased o-ring at the bottom of the sleeve.
Connect the sleeve bolt at the bottom.
Install and rotate the lamp into the sleeve assembly, being mindful that the end with pins is up and you only touch lamp glass with cloth, not bare hands.
Reinstall the lamp connector.
To service the sensor next, remove the UV sensor from the unit and submerge tip in descaler for 30 minutes. Then use a cotton swab to dry off the end and squirt with water to neutralize any chemical that may be left on there. Then replace the sediment and carbon pre-filters using filter housing wrench.
Restore power by plugging unit back in to power supply. Press and hold the "new lamp" button which sets the timer for the next time.
Then turn on water supply. Cheque for leaks!
If no leaks, then open the valve fully. 
If you need to replace the fuse, disconnect the controller to the system with a small, flat screwdriver. Pry forward and slide unit out to replace fuses. Caution: Double Pole / Neutral Fusing.