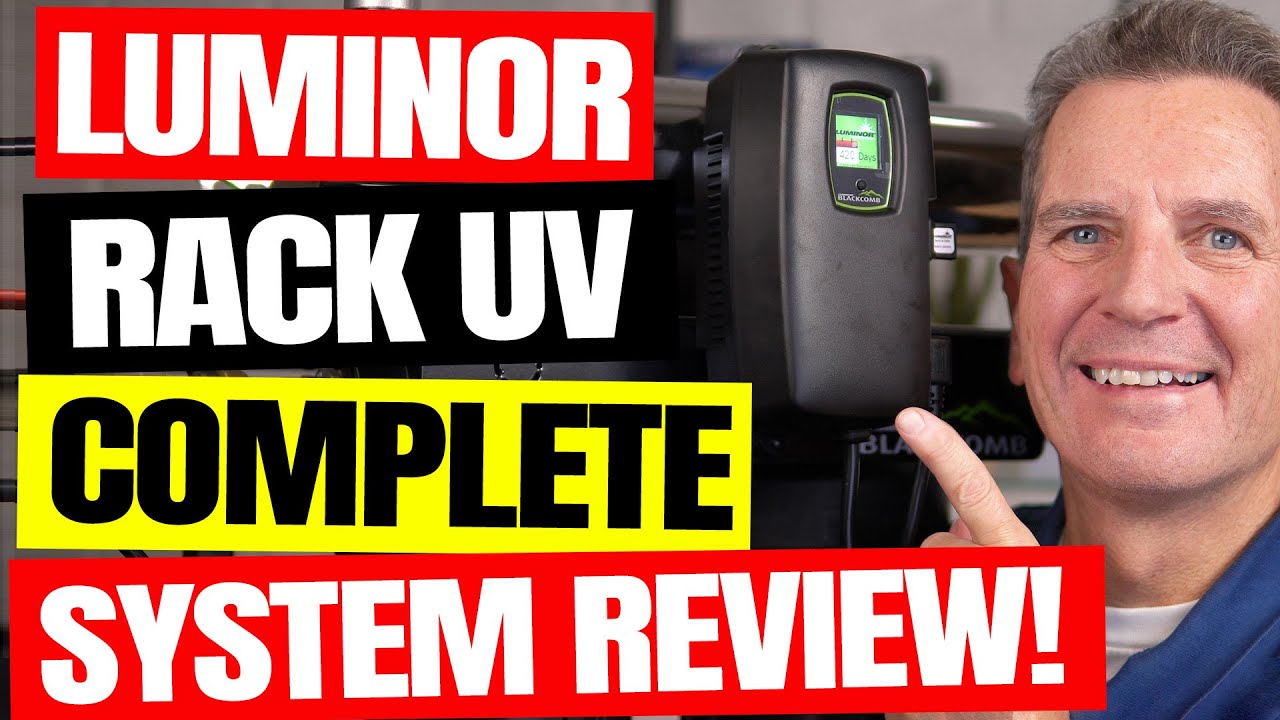 Are you looking for a reliable and hassle-free solution to keep your well or lake water free from harmful bacteria? Look no further than the Luminor Rack UV Disinfection system! Easy to install and highly effective, this system is perfect for homeowners, cottage owners, and cabin owners alike. Don't just take our word for it — check out our product details to see why the Luminor Rack UV is the superior choice for your family's safety and peace of mind.
Getting Started With UV Systems
Not sure how one of these UV systems works? I have a great YouTube video here that explains the whole process. 
Have a Luminor Blackcomb UV Rack System and looking for simple, easy-to-follow installation tips? Check out this great step-by-step video!
Why Consider a Rack UV in the First Place?
Are you a DIYer looking for a quick and easy way to install a UV system? Look no further than the Luminor Blackcomb Rack UV. With just a simple line-in and line-out setup, this system eliminates the hassle of complicated plumbing. Say goodbye to long installation times and hello to a more effective water purification solution.
Performance - 10/10
A consistent and proven bacteria kill in both lake and well water, as long as the water has been pretreated correctly. In other words, the water is colourless, soft and iron free.
Capacity - 8/10
The capacity in this case is the UV's ability to kill bacteria which is limited to the flow rate. Luminor's eight models cover from 8 gpm to 15 gpm, so you just invest in the one whose maximum flow rate is higher than your pump's flow rate to make sure that you're covered. This being said, there is a very limited range of models available since there are only 2 flow rates.  So, if you're looking for a smaller 5 or 6 gpm system for a small cottage you would need to oversize.  Similarly, if you need a UV that is larger than 15 gpm you'll need to look elsewhere.
Cost to Operate - 9/10
Low 20 Watt power consumption for the 8 gpm systems and still a low 45 Watts to operate this 15 gpm UV. These replacement lamps, although readily available at a variety of sources if you have the non-proprietary Blackcomb version, are at the higher end of the price scale for this size UV. As a bonus, the UV lamps are good for 420 days instead of the typical 365 days for most other brands on UV systems so you save 15% dues to the longer lamp life.
Ease of Installation/Use - 10/10
Luminior's relatively small chamber size and the fact that they come fully assembled make them very easy to install for everyone and especially do-it-yourselfers. Just note that they come with 1" connections so if your plumbing is ¾" or ½" you will need bushings. Unlike most rack UV systems they are installed with the UV chamber configured horizontally so you do not need that extra 20" of space above the unit for lamp changes. But keep in mind that you will need proper spacing on the side where the lamp comes out. The systems are easily reversible too. Also, you don't need to reset the timer when doing the annual UV lamp replacement.  When you replace the lamp with its new key, the timer is automatically reset! Replacing the lamp and sleeve is very easy and straightforward.
Features - 10/10
These Ultraviolet Disinfection systems have a countdown timer showing the lamp life in days remaining, which is very useful. Especially for cottage applications, they are straightforward and easy to understand. Plus, the replacement UV lamp, sleeve and even the controller model numbers are accessible in two locations! I also like the little window in the end cap which shows you that the lamp is on.  
Parts Availability - 6/10
Parts are readily available from the manufacturer and through any number of distributors like our e-commerce store, Water eStore. So why the low rating? Many of these are sold by companies like Water Depot, Nelson, Culligan and numerous plumbing suppliers under their own private label name. The problem is you cannot replace a Culligan lamp with any other brand's lamps or even with a Luminor Blackcomb lamp, even though the systems are identical.  The key to unlock the lamp is proprietary. This means those guys who sell these as a proprietary product can charge whatever they want for the replacement lamps and you're stuck.  If you get the Luminor Blackcomb version, at least these are not proprietary and the consumables are widely available.
Longevity - 9/10
In my experience, these Luminor Blackcomb UV systems are very reliable. The ballasts in these UVs can be somewhat finicky, like most UV systems, which is why I always suggest plugging them into a surge suppressor to protect the electronics. But overall, great longevity!
Reliability and Build Quality - 9/10
Luminor UV units are very heavy-duty and well-built.  Given the 3 piece filter housings with the one-piece tops, the heavy gauge U-bracket and SS reaction chamber, you can count on a good 20 years of use!
Initial Investment - 8/10
These Luminor Rack UV's are a premium item and are priced accordingly. The replacement filters are totally non-proprietary so you have lots of choices for replacements.  Yes, the lamps are a little on the expensive side, but keep in mind that you will get 15% more life out of the lamp. The difference in investment between these 8 models is substantial so be sure to check your flow rate before choosing the best model for your family. Keep in mind that they come without the filters (but WITH the lamp and sleeve), so be sure to factor that cost into your decision-making process.
Styling/Aesthetics - 10/10
These Luminor Ultraviolet Disinfection systems are very well built and, with their contemporary black finish, look great when installed!
Gary the Water Guy's Overall Score - 89/100
Pros: Easy DIY one-piece installation, does not require much space above the unit for installation.  Well built and strong system.  
Cons: Potential difficulty and confusion in accessing replacement lamps although the system clearly shows in 2 locations which model numbers you need. BUT If you purchase the Luminor Blackcomb version instead of the Private Label version you will have a much better chance of finding the replacement lamps for your system in 5, 10 or 15 years because far more people sell them.  You can even buy them online — try doing that with the Private Label versions! High initial cost but remember you only get what you pay for.
Shop the Luminor Blackcomb UV Rack System Here!