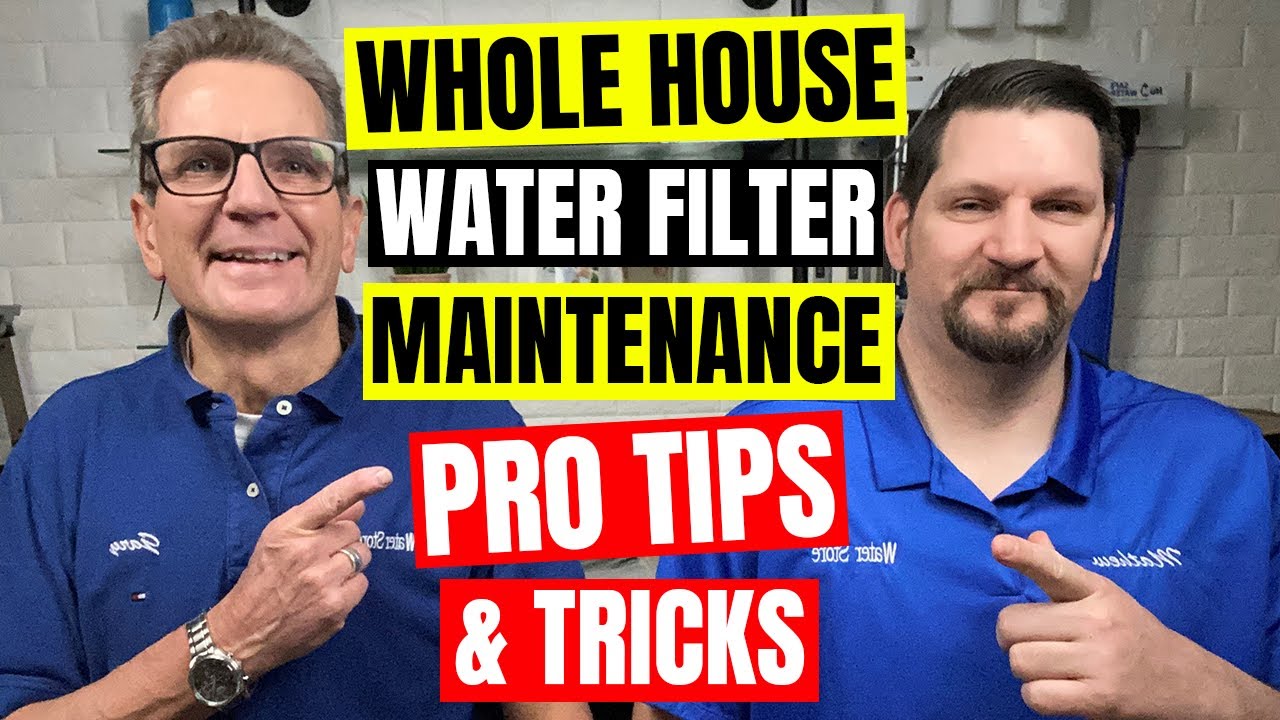 Are you overwhelmed with the maintenance of your water filters at home, cabin, or cottage?

Not sure where to start? Want some advice from the pros? Don't worry, we're here to help!

Hi, I'm Gary the Water Guy and I simplify water filtration to help you conquer crappy water for your family.  Today Mathew is joining me from our tech team to help me share with you our tips and tricks when maintaining a sediment or chemical removal filter.  By the end of this blog, you'll know where to start, what you'll need, how and when to maintain it — and what you should definitely avoid doing!

 
GETTING STARTED
The first step of water filter maintenance is to know what make, model and micron of the water filter you currently have in your home, cottage or cabin.  In case you don't know, you can always email us pictures of what you have to info@waterestore.com so we can make some recommendations. Most water filters are either sediment or carbon but there are some variations.  Let's check in with Mathew to see what he suggests.
WHOLE HOUSE SEDIMENT OR CARBON FILTERS: WHAT IS IT? 
These types of filters either remove dirt or chemicals from your water.


They come in a few standard sizes: 10" or 20" long, either 2 ½", slim line or 4 ½" BB or Big Blue diameter.


They are typically installed near where water comes into your home.


Filter housings can contain any number of different filters inside.

 

The only way you know what's inside is by keeping track or opening it up and looking inside. Though even then it might be tough to tell.

 

You can email us pictures of what you have and describe your situation and we'll recommend a replacement filter for you.
TYPES OF WATER FILTERS
Specialty Filters are used for special circumstances like:
Tannin filters to remove colour.
Extremely coarse or fine sediment filters.
Calcite filters to neutralize pH of the water.
Other specialty filters.
WATER FILTER MAINTENANCE FAQ
>> HOW DOES A WATER FILTER WORK?

>> SHOP CARTRIDGE WATER FILTERS

AUTOMATIC BACKWASHING FILTER: WHAT IS IT? 
Depending on the type, most filter and backwash out or add something into the water.
Automatic backwashing filters work automatically – set it and forget it.
No filter cartridges to change.
Much longer life than filter cartridges.
TYPES OF AUTOMATIC BACKWASHING FILTERS
Next Sand for Sediment
Carbon for Chlorine
Catalytic Carbon for Chloramines
Calcite to Neutralize Acidic Water
AUTOMATIC BACKWASHING FILTER MAINTENANCE FAQ
How often does it need to be maintained?

 


One day, 10 -15 years from now, the media will need replacement.


What service does it need and can I service it myself?

 


Exercise the bypass.  

>> SHOP AUTOMATIC BACKWASHABLE FILTERS