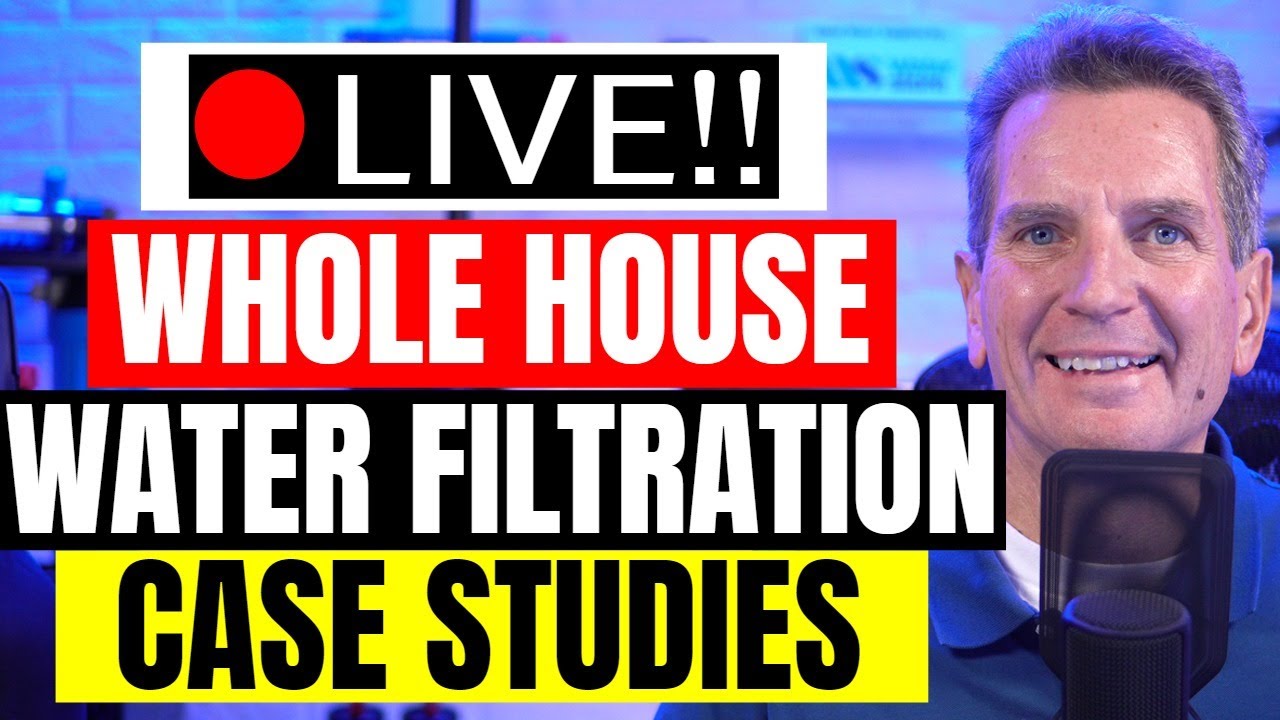 If you've got concerns about the taste, smell, discoloration, staining or safety of your water you know you need a whole house water filtration system but how do you know what you need? You want to make sure you're investing in the right water filtration system for your family, so you've had a water analysis done but how do you read the thing? Which columns or lines on the report are most important? What other information do you need about your household to get the right water filtration system? In this Live Stream I'm going to explain what you need to know! This live stream video is for the homeowner, plumber or water specialist who wants to make sure they are choosing the correct filtration equipment for your family. I definitely recommend you get an analysis done before you buy anything to make sure that what you're getting will be compatible with the concern your family is experiencing. In this live stream I'll be explaining not only how to read a water analysis but we'll be doing case studies for municipal water, well water and surface water from a lake. In each situation, I'll be sharing what information you need to get started, where to get it and how to use the information to make the best water filtration investment for your family. Please submit your questions so I can answer them live on YouTube during this live stream. If you're still unclear on how to interpret your water analysis, just email it to me and I'll help you to determine what type of water filtration you need for your family. info@waterestore.com How to Calculate Flow Rate video here
 • How to Calculate ...  
Chloramines in your water video here
 • How to Remove Chl...  
How to Winterize Water Softener
 • How to Winterize ...  
How to Winterize UV System
 • Protect Your Ultr...  
What Do Water Test Results Mean
 • HOW to READ WATER...  
Whole House Reverse Osmosis
 • How Does a Commer...  
Alberta Water quality Information Tool is here
https://www.agric.gov.ab.ca/app84/rwqit
If you're looking for a free basic water analysis just mail your sample to: Water Store, 1004 King Street, Midland, Ontario L4R0B8 Either way, understanding what's involved and planning ahead of time will make sure you get what you need to fix your water the first time and save your family money! Click here for your next video on water filtration and I'll see you there!
 • Concerned About Y...  
Check out this Playlist
 • Hello, New Here? ...  
Any questions or comments about this video? Please enter them below, I read them all and would love to answer yours. LOVE GARY THE WATER GUY AND WANT TO LEARN MORE ABOUT WATER FILTRATION FOR YOUR FAMILY? HERE ARE SOME NEXT STEPS! Sign up to keep in touch with Gary!
https://mailchi.mp/waterestore.com/su...
2) LET'S CONNECT!
https://www.facebook.com/WaterEstore/
https://twitter.com/WaterEstore
https://www.linkedin.com/company/the-...
https://www.instagram.com/Water_Estore/
https://www.instagram.com/WaterStoreM...
3) CONTACT! info@WaterEstore.com or info@WaterStoreMidland.com 4) SHOP! Midland
https://www.WaterStoreMidland.com
Canada
https://www.WaterEstore.ca
USA
https://www.WaterEstore.com
Please share this video
 • MADE in NORTH AME...  
#garythewaterguy
#waterfiltration
#wholehousewaterfilter